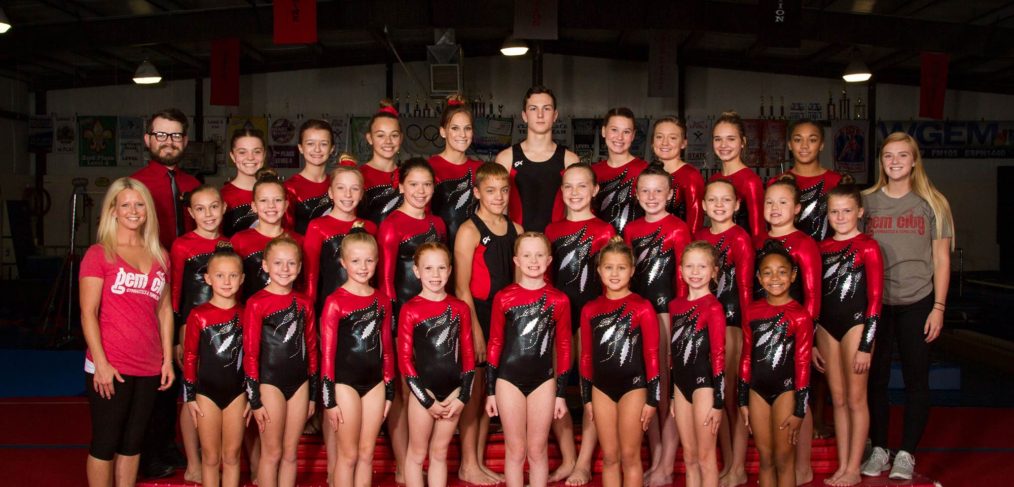 Tumblers to compete at Nationals in Charleston, West Virginia
Gem City has 19 athletes out of the 25 that qualified at State advancing on to United States Trampoline & Tumbling Association (USTA) National Championships. It'll be held in Charleston, West Virginia, on June 17-22.
Each athlete competed in 2-7 invitational competitions and USTA State in order to qualify for Nationals.  The season began in November, and Nationals will cap off a full season for this crew.  Each athlete trains 1-3 days a week, and most also attend private lessons on top of attending practice.  We are proud of this group, and we can't wait see the results this June!  Advanced level athletes will have to compete in prelims to qualify to advance to finals their second day, but every other level will be competing once to claim their title.
Tumbling team coaches are: Zeke Cernea, Laci Heller, Anne Nash, and Lydia Schrand.
Athletes Advancing to USTA Nationals
Ashlyn Akerson – 13, Palmyra, Advanced
Ruby Akerson – 11, Palmyra, Intermediate
Carter Arnold – 9, Canton, Novice
Haileigh Carlstrom – 9, Quincy, Novice
Ayanna Douglas – 11, Quincy, Advanced
Abby Fenton – 11, Quincy, Sub-NoviceAva Gammons – 9, Quincy, Novice
Madalyn Gibbs – 12, Plainville, Advanced
Randle Guymon – 17, Keokuk, Advanced
Laken Hudnut – 11, Williamstown, Novice
Cassidy Lane – 8, Hannibal, Sub-Novice
Ashley Leonard – 17, Quincy, Advanced
MaryKate McReynolds – 11, Canton, Sub-Advanced
Kenidee Oshner – 9, Quincy, Novice
Sydney Sherman – 14, Quincy, Novice
Olivia Slater – 8, Canton, Novice
Sophia Slater – 10, Canton, Sub-Advanced
Daylen Stevens – 12, Palmyra, Sub-Novice
Chayse Uhlmeyer – 10, Canton, Novice
---