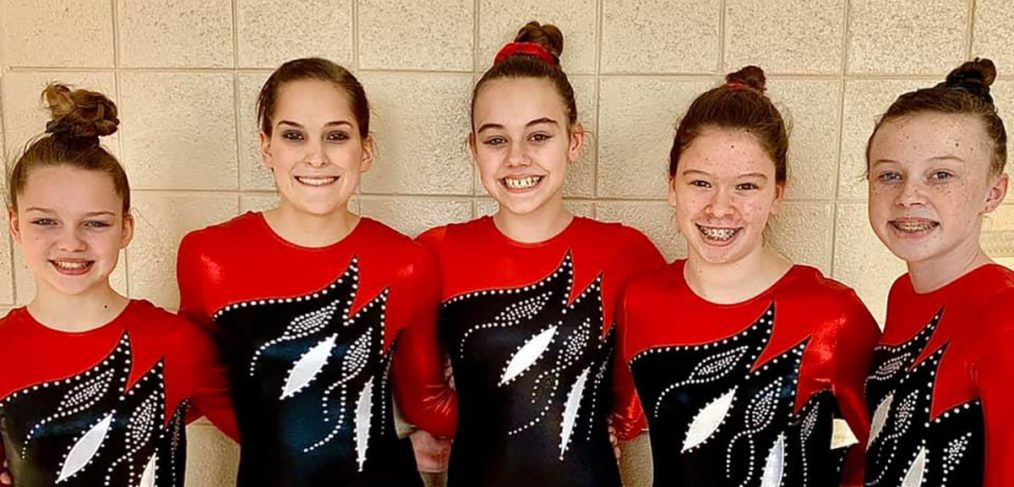 Tumbling Heated Up in Chilly Belvidere
It was cold but the tumbling was still hot at the tumbling competition recently attended by Gem City. The tumbling team traveled to Belvidere, Illinois, this weekend and had great results!
Gem City's tumbling team coaches are Zeke Cernea, Laci Heller, and Anne Nash. Keep scrolling to read the individual results. You can read more about our tumbling program here.
For those that may be unfamiliar with power tumbling, it is a sport where athletes propel themselves forward down an elevated runway while executing a series of acrobatic skills. (Think flips!) Each tumbler completes two passes, or series of skills. Depending on the level, each pass contains either five or eight skills.
Meet Results
Ellie Lithila – Sub Novice 1st 🥇
Olivia Slater – Intermediate 2nd 🥈
Rylee Mellon – Advanced 2nd 🥈
Ashlyn Akerson – Advanced 3rd 🥉
Abby Fenton – Novice 3rd 🥉
Ashley Leonard – Advanced 3rd 🥉
Serah Mixer – Sub Novice 3rd 🥉

Ruby Akerson – Sub Advanced 4th
MaryKate McReynolds – Advanced 4th
Sydney Sherman – Intermediate 4th
Chayse Uhlmeyer – Novice 4th
Madalyn Gibbs – Advanced 5th
Ellisyn Stratman – Sub Novice 5th
Shemaya Mixer – Intermediate 6th