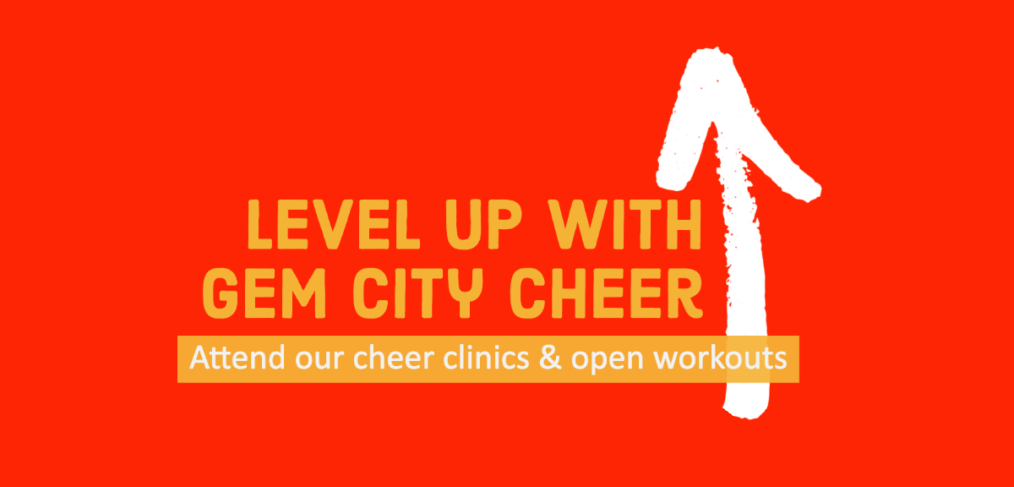 Level Up with Gem City: Cheer Clinics & Open Workouts
Whether you're an all-star cheer veteran and would just like some extra practice time or you've never done anything "cheer" in your life, come and workout with us! We'll be holding these on on three Saturday's: April 23, 30 and May 7 from 10:15 am to 12:15 pm.
We are covering basic stunts, jumps, tumbling, and generally how all-star cheer works. But if you're a veteran, then we would love to work more advanced stunts and tumbling with you as well! The athletes will be instructed by two coaches of Gem City's nationally ranked all-star squads.
Tryouts for our squad will take place Saturday, May 14, 8:30-10:30 am, so this is the perfect opportunity to learn more about the skills and commitment levels before trying out! There is NO obligation to tryout if you attend one or all of these days. You can read more about our all star cheer program here. 
Details
Three Saturday Dates:
April 23, 30 and May 7 from 10:15 am to 12:15pm
$15 per workout
Open to ages 6-18
Both members and nonmembers welcome
Signed waiver and payment must be completed each week
No pre-registration required – you can show up that morning