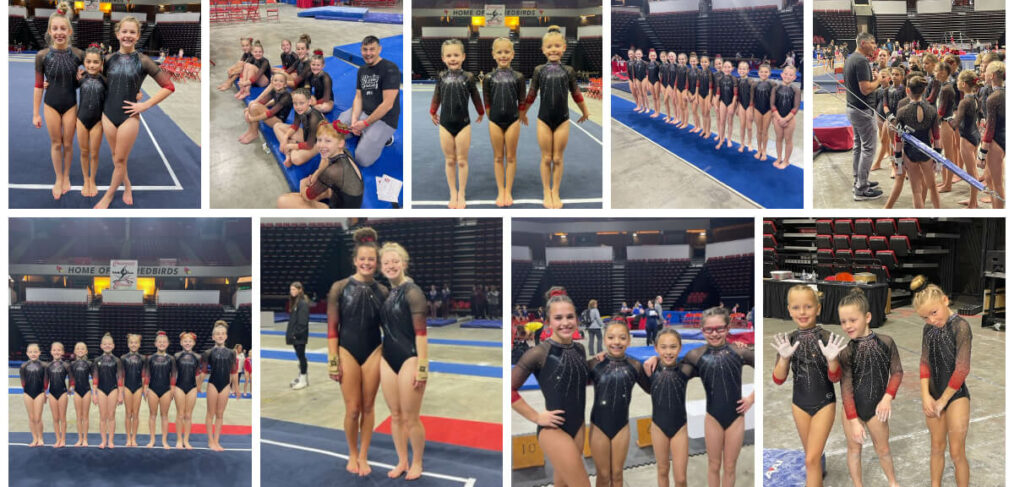 Gymnasts Kick Off Season in Bloomington
Gem City's gymnastics team competed in their first competition at the Crossroad Classic 2022 meet in Bloomington on December 9-11, 2022. We're so proud of everyone's hard work.
You can view a list of top ten placings below. Gymnastics team coaches include Jacob Huff, Hope Huff, Sarah Shumake, and Ashley Schralla. You can read more about Gem City's gymnastics program and find our meet schedule here.
Meet Results
Level 9:
Ava Winking 4V, 5BB, 1FX🥇, 5AA
Anna Venvertloh 3V🥉, 1UB🥇, 2BB🥈, 4AA
Level 7:
Emma Fleer 6V, 9UB
Sylvia Winking 8V
Ellie Lithila Participated
Eden Mayes 5UB, 10BB, 9AA
Level 5:
Addison Bakalyar 8UB
Irelyn Plenge 7V, 9UB, 4FX
KK Vazquez-Epperson 5UB, 2FX🥈
Level 4:
Carlie Anders 4V, 2UB🥈, 8BB, 3FX, 3AA🥉
Milah Ogle 10UB, 10FX
Lillian Hendrian 10V, 9UB, 7FX
Dorothy Boehmer 10V, 5BB, 6FX, 9AA
Claire VerMeer 6UB, 1FX🥇, 10AA
Mia Viorel 5UB
Josey Bockhold 9BB
Lindyn Lair 8V, 5UB, 7FX, 8AA
Gwen Terstriep 10BB
Jostyn Koch 5V, 8UB, 5BB, 8FX, 6AA
Kinsey Baker 3V🥉, 7UB, 7BB, 7FX, 5AA
Kiara Winters 6V, 5FX, 10AA
Adalyn Plenge 8UB
Level 3:
Rozalyn Brass 9UB, 3BB🥉, 9AA
Hadley Fry 8UB, 6FX
Sophia Allen Participated
Lucy Biggs 3UB🥉, 1BB🥇, 1FX🥇, 2AA🥈
Cecelia Coval 5V, 4UB, 6FX, 8AA
Ava Freesmeyer 6UB, 3BB🥉, 9AA
Kinsley Fuller 9UB, 9BB, 10AA
Sylvia Van Hove 8BB, 9FX
Ella Wietholder 1V🥇, 6UB, 9FX, 9AA
Kylee Adams 8FX
Aubree Douglas Participated