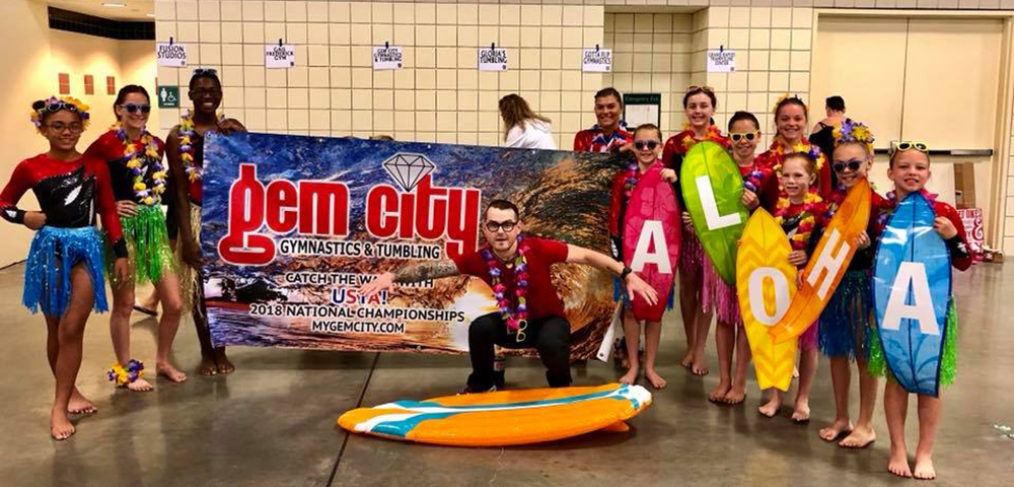 Gem City Classes are a Great Investment in Your Child
Gem City Gymnastics & Tumbling offers quality coaching centered on safety, quality instruction, and your child's well-being. The choices in the tri-state area for preschool and school age children to begin their tumbling, gymnastics, and cheer careers is plentiful and choosing the right place for your child is key to their future success.
Gem City coaches bring a wealth of experience with over 215 years of combined experience!
We coach using thoughtful progressions as we help athletes meet their full-potential through step by step instructions to build skills. This is true whether your child is building strength to just hang from a bar for a few seconds or is perfecting their double-back dismount off the bars. Gem City is proud to stand behind our coaches, the skills we teach, and the quality athletes we produce. Our gymnastics, tumbling, and all-star cheer programs are NATIONALLY RANKED. In 2018, our tumbling team and all-star squad qualified and placed at Nationals, and our gymnastics team qualified and attended Regionals with our Level 9 gymnasts. Full bragging rights are documented on our website's blog post archives.
In order to help your child reach their maximum athletic potential, our owners and team coaches attend regular clinics and training. Instructors undergo hands-on training as well as online certifications and individual skills training. All of our team/squad coaches are Safe Sport Certified and all coaches and instructors pass regular background checks. You won't find untrained coaches here teaching entry skills and leaving your athlete stuck at a beginning level.
With continuing education and training in place, we are proud that our coaches achieve consistent results. They help three-year-olds achieve a first handstand, high schoolers earn a spot on cheer squads (even college ones), and train them to be Nationally ranked athletes. Whatever your child's goals, we are here to help and empower them to be the best athlete they can be. You can familiarize yourself with our coaches here.
Gem City athletes have gone on to have college athletic careers in cheerleading/tumbling at Mizzou, Maryville University, Lindenwood University, St. Ambrose, Quincy University, Culver-Stockton College, and John Wood Community College.
Did we mention fun!? Gem City understands that fun is the key to learning.
Coaches take joy in watching your child's skill and confidence grow but know success is not possible if they aren't enjoying the sport and their class. This is why we prioritize a fun and positive environment.
We love to see the kids progress from class to class, level to level, and from unsure to confident. At Gem City we have a place for everyone, and we have personally seen how providing a place to grow and build skills with familiar faces positively impacts our students and promotes stability in their lives. Your child can go ALL THE WAY to one of our competitive teams, or focus on recreational classes and fun – whatever your child's needs are and whatever their dreams are, Gem City can help. It all starts with their first class.
Start classes at any time.
We are easy to find in Quincy! We are located on a cul-de-sac off North 18th St. with minimal traffic, no stairs or ramps, and easy access for toddlers/elders (minus an optional viewing area inside the gym). We also prorate tuition based on your start date and evaluate students each session to ensure your child is progressing and in the class that best fits their skills. We have three sessions a year (summer, fall, and spring), but you can start whenever works best for you. Ideally, we like students to begin at the start of a session, but we have athletes join us every single week. For information on session start dates and class time, check out our website.
Starting your child at age one, two, three, or six is a choice that each family makes based on their personal situation. But making the choice as to WHERE to attend class should be an easy one. You should choose Gem City Gymnastics & Tumbling. Simply choosing the closest or cheapest class is no guarantee that your child will have a positive experience with quality coaching or that the time you are carving out each week will be well spent. Think of Gem City early on.
---
Learn more about Gem City.