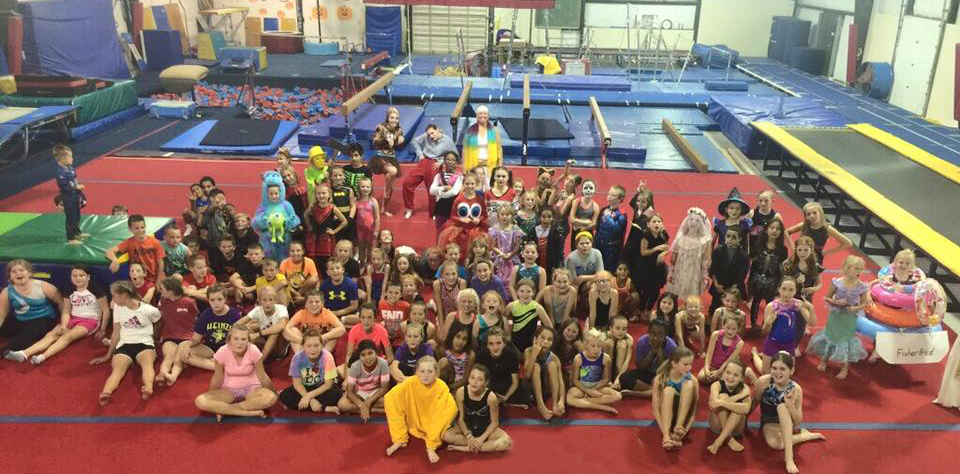 Gem City excitedly offers more than just gymnastics, tumbling, and cheer instruction! You'll find we have a lot of flexibility with our 16,000 square foot air-conditioned facility. The options are wide-ranging from birthday parties to tumbling and stunting clinics for cheer groups. Check out our full list of links below!
Have an idea that's not listed? Give us a call at 217.224.8491!
Birthday Parties
Our gymnastics parties are a fun time for all, and no prior gymnastics experience is needed to enjoy one of our birthday parties!
Clinics – Tumbling, Gymnastics, and Cheer
Knowledge pool at Gem City is deep, so a clinic might be just the thing for you and your group, team, or squad.
Field Trips
A field trip to Gem City Gymnastics & Tumbling is a fun, healthy, and affordable for your group!
Pizza Fun Night
This is a great opportunity for kids to participate in group games, open gym time, eat pizza, drink soda, and have fun with their friends!
Preschool Playtime
This open, unstructured time for kids age 6 and under to play in the gym.
Private Lesson
Some athletes may want a focused one-on-one private lesson with one of our many skilled instructors and certified coaches.
Adaptive Gymnastics
(No Experience Required or long-term commitment, Ages 5-12, Co-ed)
This half hour class is for athletes with differing abilities or special needs ages 5-12. At least one parent must be present and participate in the class. Instruction will focus will on growth and development in the following areas: gross motor coordination, sensory processing, language concepts, social skills, and being a kid while having fun! Cost is $12 per class.
Adult Gymnastics
(No Experience or Commitment Required, Ages 18+, Co-ed)
$9 for Spring 2020 Session, $12 beginning June 1
Gem City offers an hour and fifteen minute class in an open gym format. We begin with a skills based warmup then participants are free to work toward their individual goals. Participant experience levels range from absolutely none to former competitive gymnasts and tumblers.
This open gym is designed for adults of all ages with any experience level. Work with a coach or on your own. We'll start with strength, flexibility, and basic skills and work our way to more advance skills.
Participant experience levels range from absolutely none to former competitive gymnasts and tumblers. Though most focus on tumbling skills, athletes are free to work on any gymnastics and tumbling events and skills.
Adult Gymnastics is now included in Family Maximum, Team Family Maximum, & Cheer Maximum!