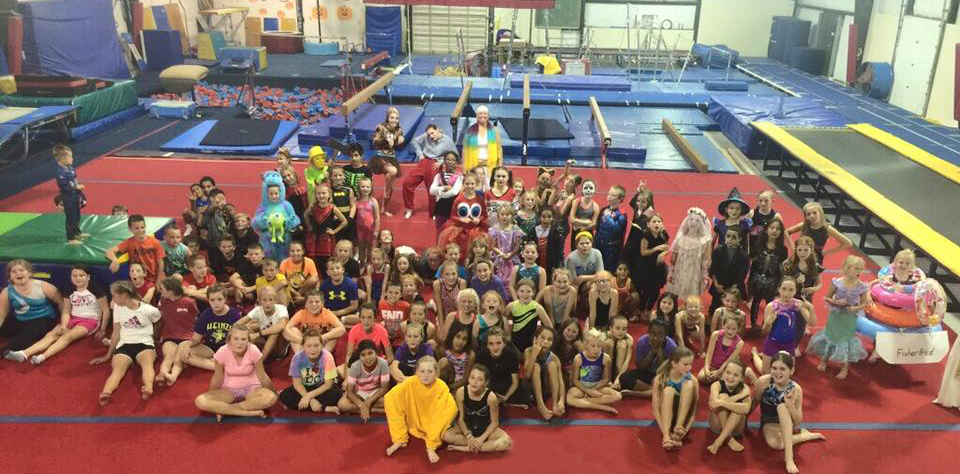 Gem City excitedly offers more than just gymnastics, tumbling, and cheer instruction! You'll find we have a lot of flexibility with our 16,000 square foot air-conditioned facility. The options are wide-ranging from birthday parties to tumbling and stunting clinics for cheer groups. Check out our full list of links below!
Have an idea that's not listed? Give us a call at 217.224.8491!
Birthday Parties
Our gymnastics parties are a fun time for all, and no prior gymnastics experience is needed to enjoy one of our birthday parties!
Our birthday parties are two hours long with up to 20 guests! Partygoers spend an hour and a half of play as they bounce around our 16,000 square foot facility, which is exclusively for you and your party. Bars! Beam! Trampoline! Have you heard that we have a foam pit? (Parents tells us that kids sleep well after parties!) The fun continues when the birthday party moves into our lobby for cake, ice cream, the singing of the birthday song, and presents!
Gem City provides your birthday party with tables, table coverings, clean up, and a staff person onsite to assist you with any needs you may need met. A refrigerator and freezer are also available for your use. Please feel free to bring any outside cake, food, or decorations. It's your party! It should be exactly how you envision!
The best part of a birthday party at Gem City might be when the party finishes because there's no fuss! We take care of all the cleanup.
Birthday parties cost $180 for members and $200 for non-members. Each additional child over the 20 headcount, is $15 each.
How early you would like to book your party is entirely up to you, but we do tend to fill our available dates quickly so it usually best to call at least a month in advance to book a time.
Each child attending a party at Gem City must have a signed waiver by a parent or legal guardian. Waivers are available through your party host and will be available when you arrive to the party. Children without a waiver will not be allowed to participate.
Clinics – Tumbling, Gymnastics, and Cheer
Knowledge pool at Gem City Gymnastics & Tumbling is deep, so a clinic might be just the thing for you and your group, team, or squad. We train athletes and teams of all ages and ability levels. Our clinics are custom tailored to meet your team's needs and abilities. Every clinic is designed to meet your specifications and needs!
Gymnastics, tumbling, and all star cheer aren't just sports we fell into. We're passionate about them and excited to pass on our knowledge to others whether they're athletes or coaches. All of our coaches are qualified to provide gymnastics, tumbling, and cheer instruction. Each holds one or more certifications with USA Gymnastics, the United States Trampoline & Tumbling Association, or United State All-Star Federation.
Safety is a primary focus for us at Gem City. We maintain this focus by emphasizing progressions. Participation in any sport is dangerous. Solid education and training can prevent most injuries. Our goal is to train athletes how to do skills properly and avoid injuries. Along with the qualified staff at Gem City, our spacious and well equipped 16,000 square foot facility provides a safe environment to learn. Read more about Gem City's facility and equipment here.
Gymnastics, tumbling, and all star cheer are challenging sports. Your body must be strong, but your mind needs to be stronger. We help strengthen both with our coaching approach that is safety centered, positive, and knows when to offer a kick in the pants.
Quotes are available upon request.
Setup your clinic today! Call 217.224.8491.
Field Trips
A field trip to Gem City Gymnastics & Tumbling is a fun, healthy, and affordable for your group! You're sure to have a good time when you bring your class, daycare, organization, or troupe for an action-packed, energy burning, athletic field trip!
Our large 16,000 square foot facility is filled with state-of-the-art equipment suitable for children of all abilities.
We do both small and large groups. We offer group rates for schools, childcare facilities, and private organizations that want to bring kids in for a little gymnastics fun!
Quotes are available upon request.
Pizza Fun Nights
Pizza Fun Nights are a great opportunity for kids to participate in group games, open gym time, eat pizza, drink soda, and have fun with their friends! We find many parents like to think of these as "parents' night out."
These three-hour events cost $700 to host up to 100 children. It's perfect for a school fundraiser. Each organization hosting a pizza fun night gets to charge their own entry fee per student – this can be used as a fundraiser or just used to break even to provide the students with a fun activity for an evening!
Interested having your school or group host a pizza fun night? Awesome!. Call us for availability at 217.224.8491.
Preschool Playtime
Gem City's Preschool Playtime provides open, unstructured time for kids age 6 and under to play in the gym. It's every Wednesday from 9:30-11:30 am. You can come for a half-hour or stay the whole two hours. $7
Members and nonmembers alike can come play with their little ones. Individuals, daycares, play groups, church groups, etc. are all welcome too! Each child or small group needs a chaperone. Children must be 6 or younger; there are no exceptions to this rule.
You can feel free to take a break during the two hours of open gym time! You could have a snack in our lobby or read one of our many books in between wild gym time.
Preschool Playtime is not included in the Family Maximum, Team Family Maximum, or Cheer Family Maximum.
Private Lessons
Some athletes may want a focused one-on-one private lesson with one of our many skilled instructors / certified coaches. Private lessons are great way to accelerate and enhance learning, or overcome a particular learning obstacle. If you are looking for this type of one-on-one attention to work towards a specific goal, like a back handspring or back hip circle on the bars, then private lessons can be especially effective!
Gem City Gymnastics & Tumbling offers private one-on-one gymnastics, tumbling, cheer, and fitness instruction with a coach certified by either USA Gymnastics, the United States Trampoline & Tumbling Association, or United State All-Star Federation.
We find private instruction is best for children ages 5 to adult. Lessons vary in length depending on the athlete's skill and goals. Typically, we find 30 to 45 minute lessons work best.
Private Lessons are available to all Gem City athletes, regardless of age or skill. Directly coordinate the day and time with the instructor of your choice, or contact our office for an instructor referral.
Please call us at 217.224.8491 to set up your private lesson today!
Private Lesson Rates
30 minutes — $30
45 minutes — $40
60 minutes — $55
Additional cost for adding a second person to a lesson:
30 minutes — $15
30 minutes — $20
60 minutes — $27.50
Private Lesson Policies
Students must pay the annual registration fee or be members of Gem City Gymnastics & Tumbling, LLC. in order to take private lessons.
All lessons must be paid on the day the lesson is given.
A 24-hour advance notice of cancellation is required. All cancellations occurring less than 24 hours prior to the lesson time will incur the full lesson fee.
Availability of private lessons is dependent on coach's individual schedules.
Private lessons are not intended to act as a substitute for regularly scheduled classes. Much of tumbling and gymnastics requires developing a comfort and confidence with new skills. This often means "putting in your time" by taking many turns. Classes work is best in this regard. Also, the camaraderie of other athletes greatly aids in learning and developing new skills.