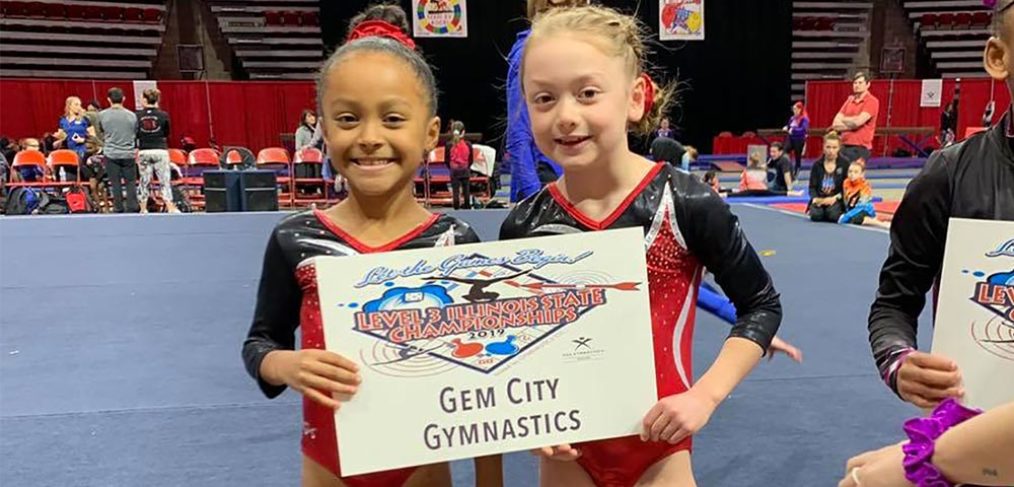 Level 3 Teams Find Their Shine at State
Gem City's Level 3 teams rocked it at State this past weekend in Bloomington-Normal! Our Senior Team brought home 6th Place in the state, our Child Team earned 9th Place Team in the state, and our Level 3 Team brought home 12th Place Overall in the state of Illinois. With 63 Teams competing this weekend, we're HAPPY to be in the TOP 19% of the State!
Thank you SO MUCH to our athletes, parents, coaches, gym family, and supporters. This season was a great one for our Level 3 girls and we SO appreciate everyone that helped our girls pull it off.
We are PROUD of our program at Gem City, and we hope you're able to congratulate our girls this week at home, at gym, at school, and on the street. THANKS FOR A GREAT SEASON!
Keep scrolling past the photos for individual meet results.
Individual results:
Alyssa Connolly 🏆 – STATE CHAMPION Bars, 10th Beam
Weslee John – 3rd Vault, 7th Bars, 4th Beam, 2nd Floor X, 2nd ALL-AROUND
Olivia Slater – 4th Bars, 4th Beam, 8th Floor X, 5th ALL-AROUND
Claire Obert – 4th Vault, 8th Bars, 6th Beam, 8th Floor, 7th ALL-AROUND
Chloe Buhrmester – 5th Floor X, 7th ALL-AROUND
Sydney Nicholas – 10th Bars, 4th Floor X, 9th ALL-AROUND
Carrie Vance – 5th Vault, 4th Bars, 9th ALL-AROUND
Kaliyah Chinn – 3rd Vault
Emma Fleer – 9th Vault, 8th Bars
Cassidy Lane – 9th Beam, 9th Floor X
Thea Figge – 10th Vault, 10th Floor X
Sidney Zimmerman – 5th Beam
Serah Mixer – 6th Vault
Sylvia Winking – 8th Floor X
Rebekah Lovercheck – 8th Bars
Other competitors:
Natalie Chapman
Anna Martin
Avery Niewohner
Lilly Niewohner
Audrey McKinney
Braelyn McKinney
Addison Bakalyar
Irelyn Plenge