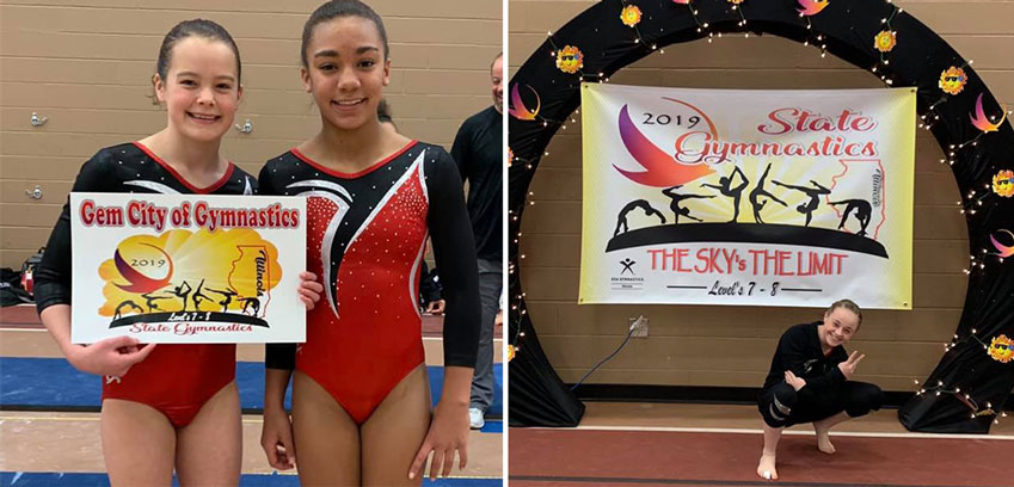 The Results: Level 7 and 8 State Championships
Gem City athletes Riley Brown (Level 8), Ayanna Douglas (Level 7), and Anna Venvertloh (Level 7) competed at the USAG State Championship in Dekalb, Illinois.
Brown came a Bars State Champion with a score of 9.675. Douglas earned 2nd Place on Vault, and both Douglas and Venvertloh earned their season high score for All-Around. All three athletes solidified spots to move forward to Regional on April 26-28 in Bourbonnais, Illinois.
We are proud our athletes hard work and dedication in the gym. These athletes qualified for State by earning an all-around score of 34.50 or more for Level 7 and 33.00 or more for Level 8 throughout the regular season.Their season included eight invitational meets beginning in November 2018 with the last competition the first week in March.
They are coached by Jacob Huff, Hope Huff, and Kiki Backoff. The coaches love all the fun and hard work these athletes put in at the gym. You can learn more about Gem City gymnastics team here.