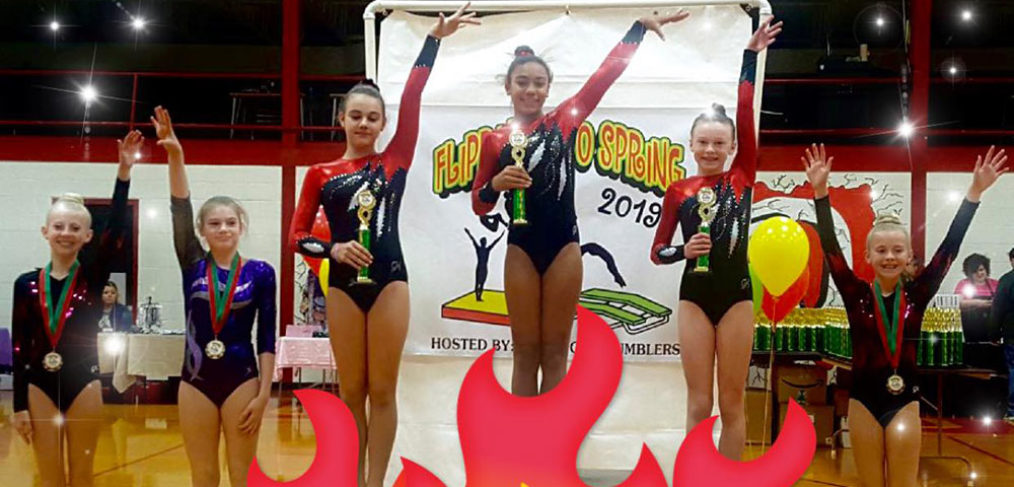 Advanced Girl Tumblers Sweep Age 11-12 Division in Monmouth
Twenty-four of Gem City's tumblers competed in Monmouth, Illinois, on April 14. Our advanced girls swept the age 11-12 division when they earned the top 3 places.
Great job Gem City tumblers! Find the full meet results below. You can also read about Gem City's tumbling program here.
Meet Results:
Ayanna Douglas – Advanced 1st🥇
John Bohnenblust – Sub Advanced 1st🥇
Sydney Sherman – Novice 1st🥇
Cassidy Lane – Sub Novice 1st🥇
Daylen Stevens – Sub Novice 1st🥇
Ruby Akerson – Intermediate 1st🥇
Abby Fenton – Sub Novice 1st🥇
Rylee Mellon – Advanced 2nd🥈
Olivia Slater – Novice 2nd🥈
Khloee Hinton – Novice 2nd🥈
Haileigh Carlstrom – Novice 2nd🥈
Ashley Leonard – Advanced 2nd🥈
Sophia Slater – Sub Advanced 2nd🥈
Laken Hudnut – Novice 2nd🥈
Ashlyn Akerson – Advanced 2nd🥈
Bailey Heller – Novice 2nd🥈
Jenna Starman – Sub Novice 2nd🥈
Maddy Gibbs – Advanced 3rd🥉
Kenidee Oshner – Novice 3rd🥉
MaryKate McReynolds – Sub Advanced 4th
Millie Stewart – Sub Novice 4th
Chayse Uhlmeyer – Novice 4th
Carter Arnold – Novice 4th
Claire Westerman – Novice 4th