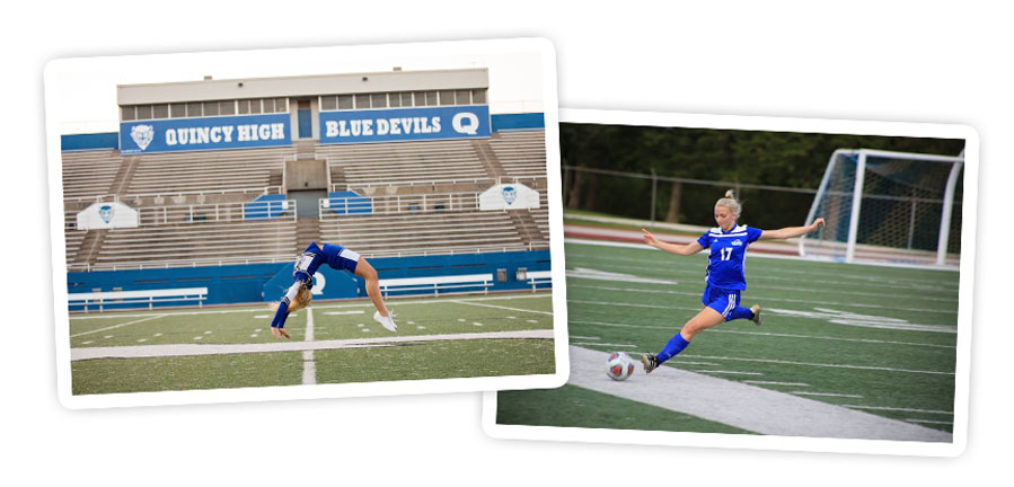 Senior Spotlight: Sophia Soltwedel
Sophia Soltwedel, long-time presence at Gem City as an athlete and employee, will graduate from Quincy Senior High School this year. She tumbled at the gym for 10 years, competing for seven of those years on the Tumbling Team. Sophia also danced for 10 years at Beth Heinze Dance Academy and was very involved in high school.
She cheered for QHS for four years. For the last three years, she was a Varsity football, soccer, and basketball cheerleader. Sophia has also been on the QHS Varsity soccer team since her freshman year. She participates in Beta Club, Math Team, and the National Honor Society. She has won the Scholar Athlete Award the last five cheer seasons, and her Junior soccer season for her 4.653 GPA. Recently, she was chosen as the Youth of the Month for the Quincy Exchange Club and also named QHS's Daughters of the American Revolution Good Citizen.
Sophia started working at Gem City in 2016 and has helped with birthday parties, field trips, and pizza fun nights during her high school career.
She has been on mission trips to Uganda and Guatemala and hopes to return to Uganda in the summer. Next fall Sophia will be attending the University of Illinois to major in Civil Engineering.
We are so proud of Sophia, her amazing work ethic, determined spirit, and for her bright future ahead of her!
Good luck, Sophia!
---
Were you once a gymnast, tumbler, or cheerleader at either Gem City or Quincy Gymnastics? Feel free to stop by the gym or drop us a line! We love hearing from former athletes.