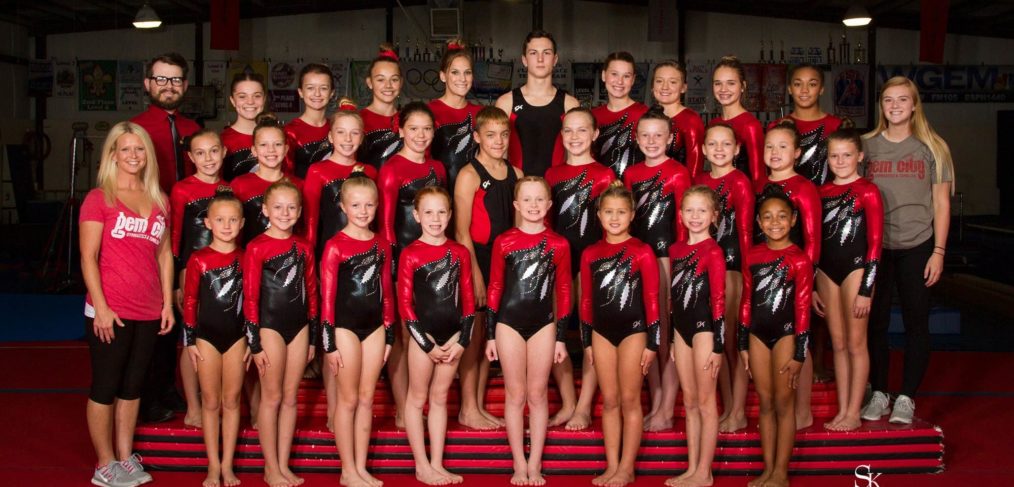 Gem City Tumbling Wins Big at Nationals in West Virginia
Nineteen athletes from Gem City's tumbling team traveled to Charleston, West Virginia, for the 2019 National Championships of the United States Tumbling and Trampoline Association (USTA) on June 17-22. Nationals had over 2,100 athletes from 147 teams competing 4,500 events.
Gem City's novice girls tumbling team earned a first place trophy in their division. Plus, there were several top 10 individual finishes. Gem City's tumbling team coaches are Zeke Cernea, Laci Heller, Anne Nash, and Lydia Schrand.
Keep scrolling to see some photos from the competitions and read the individual results.
Each athlete competed in 2-7 invitational competitions and USTA State in order to qualify for Nationals. The season began in November, and Nationals will cap off a full season for this crew. Each athlete trains 1-3 days a week, and most also attend private lessons on top of attending practice.
For those that may be unfamiliar with power tumbling, it is a sport where athletes propel themselves forward down an elevated runway while executing a series of acrobatic skills. (Think flips!) Each tumbler completes two passes, or series of skills. Depending on the level, each pass contains either five or eight skills.
Results for 2019 USTA Tumbling
National Championships 🏆
Team Result:
🥇 Novice Girls – 1st in nation
Roster: Sydney Sherman, Kenidee Oshner, Olivia Slater, Ava Gammons, Haileigh Carlstrom, Laken Hudnut, Carter Arnold, Chayse Uhlmeyer
Individual Standings:
🥈 Olivia Slater – Novice – 2nd in nation (17 competitors)
🥉 Kenidee Oshner – Novice – 3rd in nation (35 competitors)
Sydney Sherman – Novice – 4th in nation (21 competitors)
Randle Guymon – Advanced – 4th in nation (6 competitors)
Cassidy Lane – Sub Novice – 5th in nation (42 competitors)
Daylen Stevens – Sub Novice – 5th in nation (15 competitors)
Ava Gammons – Novice – 6th in nation (17 competitors)
Madalyn Gibbs – Advanced – 7th in nation (16 competitors)
Ruby Akerson – Intermediate – 8th in nation (32 competitors)
Ayanna Douglas – Advanced – 9th in nation (16 competitors)
Ashley Leonard – Advanced – 9th in nation (15 competitors)
MaryKate McReynolds – Sub Advanced – 9th in nation (43 competitors)
Haileigh Carlstrom – Novice – 10th in nation (35 competitors)
Laken Hudnut – Novice – 12th in nation (42 competitors)
Sophia Slater – Sub Advanced – 12th in nation (22 competitors)
Chayse Uhlmeyer – Novice – 12th in nation (41 competitors)
Abby Fenton – Sub Novice – 14th in nation (59 competitors)
Ashlyn Akerson – Advanced – 14th in nation (23 competitors)
Carter Arnold – Novice – 20th in nation (35 competitors)
---
📸 Tumbling team photo at the top by Shelly Kraemer – SK Photography