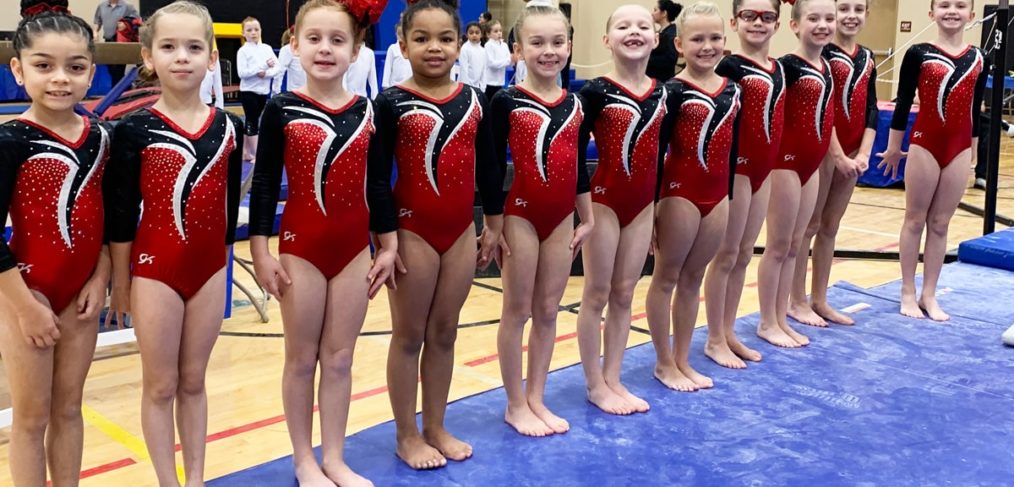 Gymnastics Team Competes at Make-A-Wish Meet
Gem City's gymnastics team had a strong showing in Lake Barrington, Illinois, for the 20th Annual Ultimate Wish Gymnastics Classic on December 6-8, 2019.
This meet is hosted by Ultimate Gymnastics and helps raise money for the Make-A-Wish Foundation. This mission of the organization is to grant the wishes of children with life-threatening medical conditions. This enriches the human life with hope, joy, and strength. Over the years the meet has raised over $1,000,000 for Make-A-Wish Illinois. Gem City is proud to be a part of it!
You can view a list of individual all around and event standings below. Gymnastics team coaches include Jacob Huff, Hope Huff, Kiki Backoff, Katelyn Dixon, and Ashley Schralla. You can read more about Gem City's gymnastics program here.
All-Around Standings
Level 9:
Ava Winking – 1st All-Around
Level 8:
Anna Venvertloh – 4th All-Around
Level 4:
Olivia Slater – 3rd All-Around

Claire Obert – 5th All-Around

Kaitlyn Klusman – 7th All-Around

Caydence Ancelet – 8th All-Around
Level 3:
Sylvia Winking – 3rd All-Around

Irelyn Plenge – 5th All-Around

Kate Fuller – 5th All-Around

Natalie Chapman – 7th All-Around

Rebekah Lovercheck – 8th All-Around
Event Standings
Level 9:
Ava Winking – 2nd vault, 1st bars, 3rd floor, 1st beam

Level 8:
Ana Venvertloh – 2nd vault, 6th beam

Ayanna Douglas – 4th vault

Level 7:
Sophia Slater – participated

Lila Winking – participated

Level 4:
Kaitlyn Klusman – 7th vault, 7th bars, 8th beam, 5th floor

Claire Obert – 7th vault, 5th bars, 7th beam, 7th floor

Carrie Vance – 9th vault, 8th bars, 10th floor

Olivia Slater – 9th vault, 1st bars, 2nd beam, 10th floor

Caydence Ancelet – 10th vault, 6th bars, 6th beam, 9th floor

Kaliyah Chinn – participated
Level 3:
Nevaeh Weinand – participated

Madilynn Wiseman- 6th vault, 6th beam

Kaylin Vazquez-Epperson – 7th vault

Sylvia Winking – 2nd vault, 3rd bars, 5th beam, 4th floor

Milah Ogle – participated

Natalie Royalty – participated

Kate Fuller – 3rd vault, 6th bars, 8th floor

Addison Bakalyar – 7th floor

Caroline Hilbing – participated

Natalie Chapman – 6th vault, 6th floor

Lilly Niewohner – 4th vault, 7th floor

Emma Pitford – 8th bars

Rebekah Lovercheck – 7th vault, 7th bars

Irelyn Plenge – 5th vault, 6th bars, 7th beam, 5th floor

Janie Triplett – participated