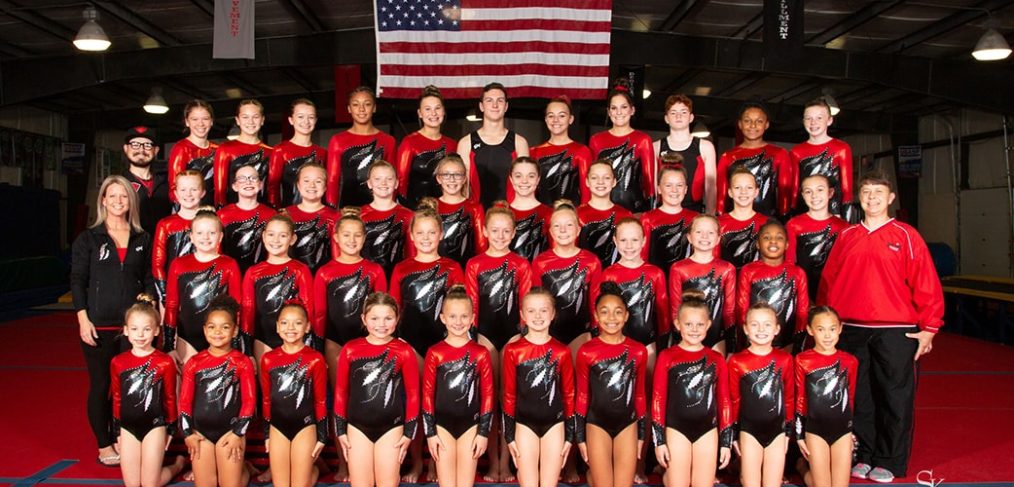 Tumblers Close Out 2019 Strong
The final meet of 2019 for the Gem City's tumblers was in Canton, IL and they did not disappoint. The team was lead by five of our advanced and elite athletes who earned four 1st place finishes and one 2nd place finish. It was quite the day.
Gem City's tumbling team coaches are Zeke Cernea, Laci Heller, and Anne Nash. Keep scrolling to read the individual results. You can read more about our tumbling team here.
For those that may be unfamiliar with power tumbling, it is a sport where athletes propel themselves forward down an elevated runway while executing a series of acrobatic skills. (Think flips!) Each tumbler completes two passes, or series of skills. Depending on the level, each pass contains either five or eight skills.
Meet Results
Ayanna Douglas – Elite 1st 🥇
Randle Guymon – Advanced 1st 🥇
Ashlyn Akerson – Advanced 1st 🥇
MaryKate McReynolds – Advanced 1st 🥇
Daylen Stevens – Intermediate 1st 🥇
Eden Mayes – Novice 1st 🥇
Serah Mixer – Sub Novice 1st 🥇
Madilynn Wiseman – Sub Novice 1st 🥇
Madalyn Gibbs – Advanced 2nd 🥈
Ruby Akerson – Sub Advanced 2nd 🥈
Haileigh Carlstrom – Intermediate 2nd 🥈
Michaela Voth – Sub Novice 2nd 🥈
Morgan Mueller – Sub Novice 2nd 🥈
Shemaya Mixer – Intermediate 3rd 🥉
Carter Arnold – Intermediate 3rd 🥉
Ellisyn Stratman – Sub Novice 3rd 🥉
Sydney Sherman – Intermediate 4th
Sierra Bergman – Novice 4th
Aubrey Cress-Grote – Sub Novice 5th
Millie Stewart – Novice 7th