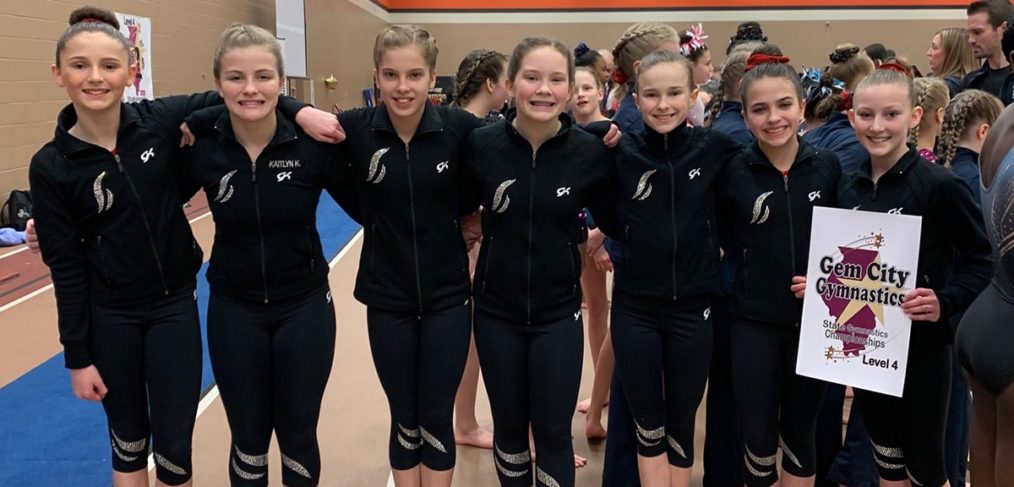 Level 4 Gymnasts Compete at State in DeKalb
Our Level 4 Gymnastics Team competed at their USAG Illinois State Championships on March 6-8 in Dekalb, Illinois. 🤸‍♂️ We are so proud of their accomplishments! 🎉 Thank you to the parents and friends of our athletes for making this such a great season. 👏
Keep scrolling to read 💎Gem City's top 10 placings.
Advancing to the State Championships requires that each athlete compete in a minimum of five invitational competitions throughout the season. Level 4 athletes also had to earn an all-around score of 34.0 or higher in order to qualify for State. These athletes workout four days a week for about 11 hours.
Gymnastics team coaches include Jacob Huff, Hope Huff, Katelyn Dixon, Ashley Schralla, and Calvin Cookson. You can read more about Gem City's gymnastics program and find our meet schedule here.
Top Ten Placings
Claire Obert – 6th vault, 8th bars, 3rd beam, 9th floor, 5th all-around
Miranda Klingler – 7th vault, 9th bars, 4th floor, 8th all-around
Faith Alford – 8th beam, 9th floor, 10th all-around
Olivia Slater – 5th bars
Carrie Vance – 5th beam
Aubrey Pool – 7th beam
Weslee John – 9th beam
Kaitlyn Klusman – 9th beam
Emma Fleer – advanced & participated
Chloe Buhrmester – advanced & participated
Caydence Ancelet – advanced & participated
Thea Figge – advanced & participated