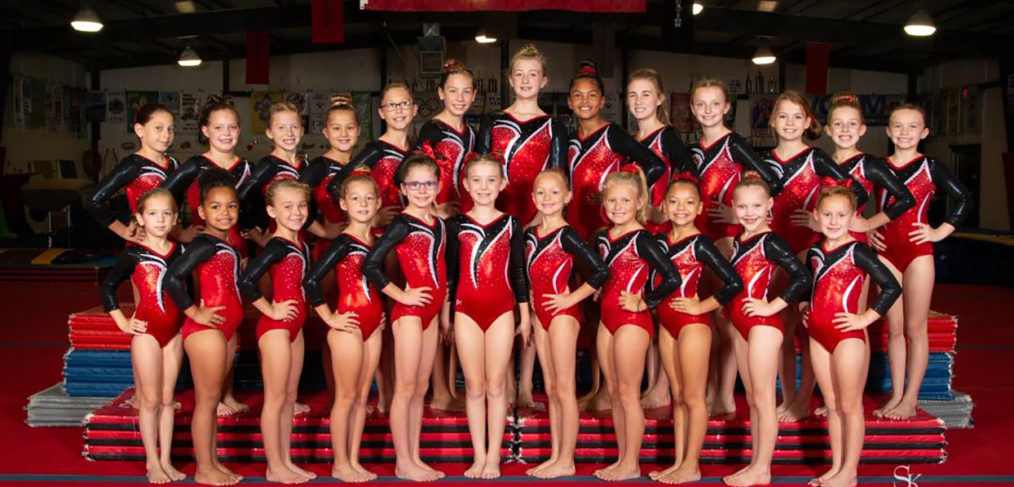 Yay for Level 3 Gymnasts Attending State!
Congratulations to our Level 3 gymnasts that qualified to advance to State! With our season cut short, these athletes aren't able to compete this weekend like originally planned. Regardless, they've had a great season, and we can't wait to get back to gym to focus on next season!
These athletes worked very hard since June of last summer perfecting their routines, building strength, increasing flexibility, and working through the world of student athleticism.
Gem City's Level 3 gymnasts had a great meet season with 20 athletes qualifying to advance to the USAG Illinois State Championships. Unfortunately, the meet was canceled–it was originally scheduled for April 16-19 in Bourbonnais, Illinois.
Each athlete had to compete in a minimum of five invitational competitions throughout the season in order to qualify for State. Level 3 athletes also had to earn an all-around score of 34.0 or higher to qualify.
Typically, these athletes workout three days a week for 7.5 hours. Gymnastics team coaches include Jacob Huff, Hope Huff, Katelyn Dixon, Ashley Schralla, and Calvin Cookson. You can read more about Gem City's gymnastics program and find our meet schedule here.
Level 3's Planning to Attend State:
Rebekah Lovercheck – 11, Hannibal, MO
Addison Bakalyar – 11, Quincy
Grace Baudino – 10, Quincy
Natalie Chapman – 12, Hannibal, MO
Audrey McKinney – 11, Quincy
Irelyn Plenge – 12, Kahoka, MO
Cassidy Lane – 9, Hannibal, MO
Braelyn McKinney – 8, Quincy
Emma Pitford – 11, Kahoka, MO
Lilly Niewohner – 8, Quincy
Sylvia Winking – 8 Quincy
Ellie Lithila – 9, Quincy
Carli Anders – 9, Quincy
Evan Little – 12, Quincy
Kate Fuller – 7, Quincy
Janie Triplett – 11, Palmyra, MO
Milah Ogle – 8, Wyconda, MO
Caroline Hilbing – 8, Quincy
Layla Fitzpatrick – 10, Hannibal, MO
Jacqueline Lefringhouse – 9, Quincy