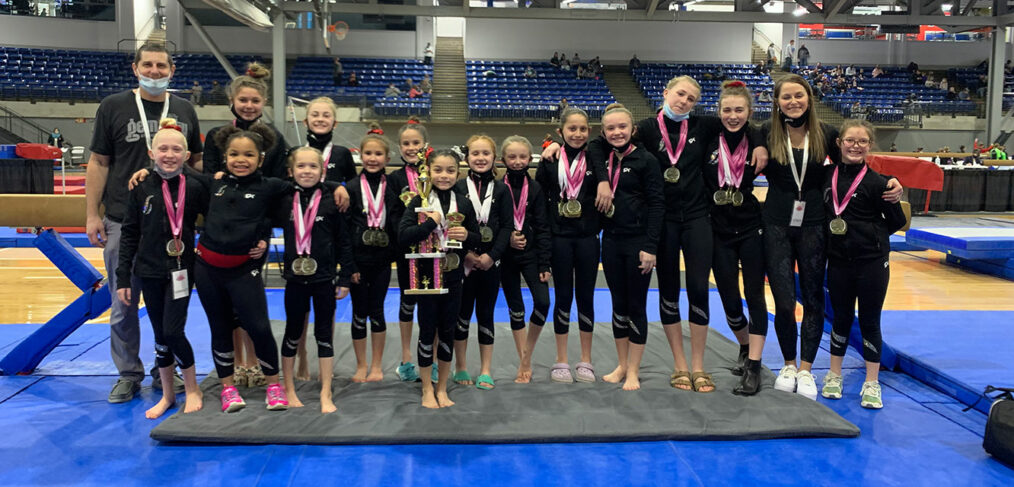 Gymnasts Start Competition Season in Kansas City
Gem City's gymnastics team competed in their first competition of the 2020-2021 season this past weekend at the Hy-Vee Arena in Kansas City, MO. The team was very excited to compete as their last competition was March 2020.
The girls did a fantastic job and our eligible levels placed for team awards too! Level 3 earned second place team award, Level 4 earned 4th place team award, and Level 5 earned third place team award.
Gymnastics team coaches include Jacob Huff, Hope Huff, and Sarah Shumake. You can read more about Gem City's gymnastics program and find our meet schedule here.
Individual top ten placings are listed below (Vault, Uneven Bars, Balance Beam, Floor Exercise, All-Around).
Meet Results
Level 3:
Claire VerMeer – V5, UB5, BB4, FX2, AA3
Quinlynn Martin – V3, UB3, BB6, FX5, AA4
Evan Little – V6, UB6, BB5, FX8, AA5
Dorothy Boehmer – V2, BB2, FX6, AA6
Nevaeh Weinand – V9 UB8, BB9, FX9, AA7
Carlie Anders – BB10, FX4, AA8
Lexy Karhliker – UB10, BB8, FX7, AA9
Mia Viorel – V10, UB7, FX10, AA10
Janie Triplett – UB4, BB7
Lillian Hendrian – V3, UB8, BB3, FX4, AA4
Kate Fuller – V8, UB7, BB8, FX5, AA7
Maddie Wiseman – V4, UB10, BB7, FX6, AA8
Milah Ogle – V7, UB5, BB7, FX1, AA4
Kate Willingham – V8, UB7, BB6, FX5, AA6
Kaylin Vazquez-Epperson – V3, UB7, BB1, FX1, AA3
Level 4:
Sylvia Winking – V2, UB2, BB8, FX3, AA3
Kaliyah Chinn – V2, UB2, BB2, FX5, AA2
Ellie Lithila – V4, UB6, BB4, FX2, AA5
Grace Baudino – V6, UB5, BB6, FX6, AA6
Chloe Buhrmester – V2, UB6, BB4, FX1, AA3
Irelyn Plenge – V5, UB5, BB5, FX3, AA4
Natalie Chapman – V5, UB9, BB7, FX5, AA6
Emma Pitford – V10, UB2, BB8, FX8, AA8
Addison Bakalyar – V9, UB3, BB9, FX9, AA9
Eden Mayes – V1, UB1, BB10, FX4, AA5
Level 5:
Olivia Slater – V3, UB2, BB1, FX4, AA2
Thea Figge – V8, UB8, BB7, FX2, AA8
Claire Obert – V2, UB5, BB3, FX9, AA4
Emma Fleer – V4, UB8, BB6, FX2, AA7
Faith Alford – V5, BB9, FX2, AA 8
Level 7:
Sophia Slater – V5, UB5, BB3, FX6, AA5
Lila Winking – V6, UB6, BB6, FX6, AA6
Level 8:
Anna Venvertloh – V1, UB1, BB4, FX7, AA1
Level 9:
Haley Woodyard – V4, UB4, BB8, FX6, AA4
Ava Winking – V1, UB6, BB8, FX7, AA6