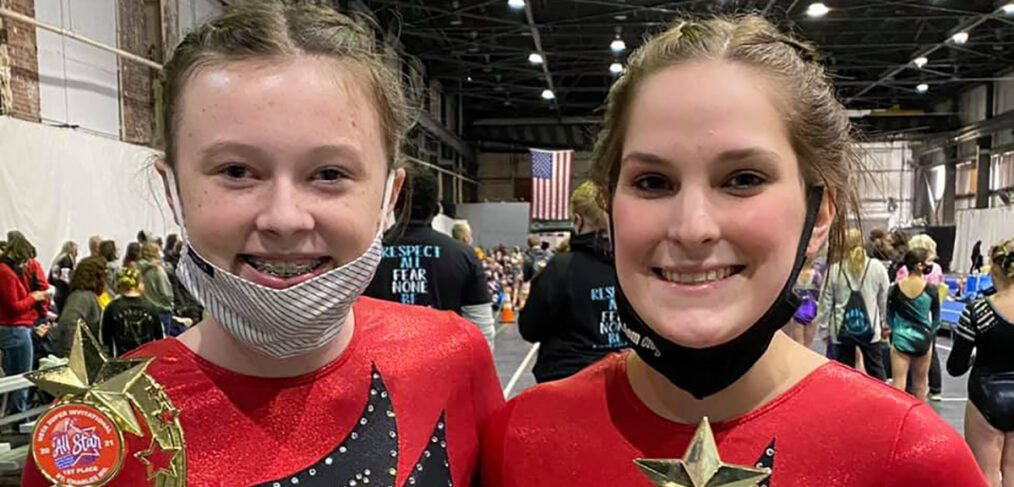 Gem City Tumbles in St. Charles
Congratulations to our Gem City Tumbling Team on a great competition in St. Charles, Missouri. We are so proud of you, girls!
The tumbling team is coached by Zeke Cernea, Anne Nash, Laci Heller, and Lydia Schrand. Read more about the Gem City's tumbling team here.
Meet Results
🟥 – indicates athlete competed in open age group All Star competition
Maddy Gibbs – Advanced – 1st🥇
Ashley Leonard – Advanced – 1st 🥇
Sierra Bergman – Novice – 1st 🥇
🟥 Ellie Lithila- Novice -2nd 🥈
Laken Hudnut – Intermediate – 2nd 🥈
Josalyn Miller- Novice -2nd 🥈
Millie Stewart- Novice -2nd 🥈
🟥 MaryKate McReynolds – Advanced – 3rd in flight 4th overall.
Ellisyn Stratman – Novice – 3rd 🥉
🟥Ashlyn Akerson – Advanced – 4th in flight 6th overall
Aubrey Cress-Grote – Novice – 4th
Madilyn Wiseman – Novice – 4th
🟥 Lauryn George – Novice – 5th in flight 15th overall
🟥 Sydney Sherman – Sub Advanced – 5th in flight 28th overall
Stella Guymon – Novice – 5th
Morgan Mueller – Intermediate – 5th
Isla Ufkes – Sub Novice – 5th
Alexa Johnson – Sub Novice – 5th
🟥 Ruby Akerson – Sub Advanced – 6th in flight 21st overall
🟥 Lydia George – Novice – 6th in flight 21st overall
Chayse Uhlmeyer – Intermediate – 6th
KK Vazquez-Epperson – Novice – 6th
Nyla Joiner – Intermediate – 7th
Carter Arnold – Intermediate – 9th