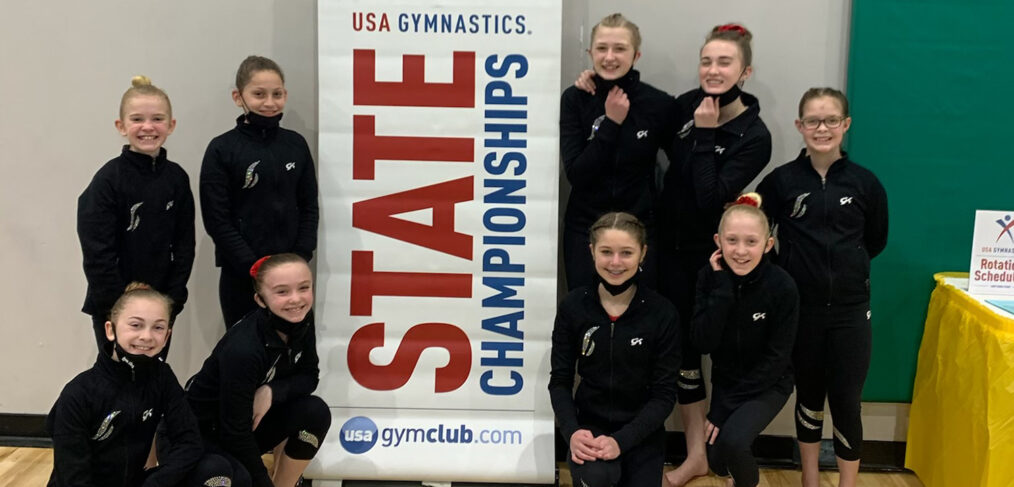 Level 3 Gymnasts Compete at State
Our Level 3 gymnastics team attended USAG Illinois State Championship on March 5-7 in Bourbonnais. We are so proud of the athletes – especially during this very trying season!
Congratulations on a great season! We are so proud that ALL of Gem City's Level 3 gymnastics qualified for State. These athletes practice up to three times a week at practice and then usually attend one-on-one lessons throughout the season to perfect certain skills.
Coaches are Jacob Huff, Hope Huff, and Sarah Shumake. You can read more about Gem City's gymnastics program and find our meet schedule here.
Keep scrolling for some meet photos and the top ten results from the meet.
Top Ten Results
Vault (V), Uneven Bars (UB), Balance Beam (BB), Floor Exercise (FX), and All-Around (AA)
Kaylin Vazquez-Epperson – V3, 6FX, 7AA
Kate Fuller – 8V
Lillian Hendrian – 5FX
Maddie Wiseman – 9FX
Milah Ogle – 3BB, 7FX
Claire VerMeer – 8UB
Dorothy Boehmer – 10UB, 8BB, 8AA
Quinlynn Martin – 8V, 8FX
Abby Twaddle – 10V, 10BB
Carlie Anders – 10FX
Participated – Kate Willingham, Lexy Karhliker, Evan Little, Janie Triplett, Mia Viorel, Nevaeh Weinand