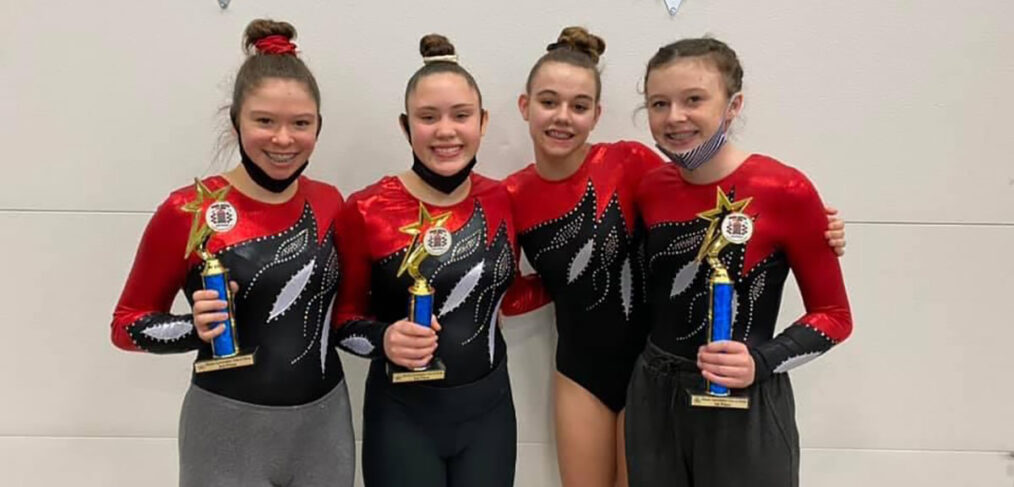 Tumblers Compete in Flora, IL
Gem City's Tumbling Team competed in their fourth competition of the season. Last weekend they competed in Flora, Illinois, and we are so proud of them.
The tumbling team is coached by Zeke Cernea, Anne Nash, Laci Heller, and Lydia Schrand. Read more about the Gem City's tumbling team here.
Keep scrolling for some photos from the meet and the individual standings from the meet.
Meet Results
Ashlyn Akerson – Advanced – 1st 🥇
Madalyn Gibbs – Advanced – 1st🥇
Ashley Leonard – Advanced – 1st 🥇
Ellie Lithila – Novice – 1st 🥇
Lily Venvertloh – Sub Novice – 2nd 🥈
MaryKate McReynolds – Advanced – 3rd 🥉
Sophia Slater – Advanced – 3rd 🥉
Ruby Akerson – Sub Advanced – 3rd 🥉
Dorothy Boehmer – Sub Novice – 3rd 🥉
Laken Hudnut – Intermediate – 3rd 🥉
Rebecca Motley – Intermediate – 3rd 🥉
Morgan Mueller – Intermediate – 3rd 🥉
Olivia Slater – Sub Advanced – 3rd 🥉
Sierra Bergman – Novice – 4th
Nyla Joiner – Intermediate – 4th
Sydney Sherman – Sub Advanced – 4th
Ellisyn Stratman – Novice – 4th
Rylee Mellon – Advanced – 5th
KK Vazquez-Epperson – Novice – 5th
Madalyn Wiseman – Novice – 7th
Haileigh Carlstrom – Intermediate – 8th