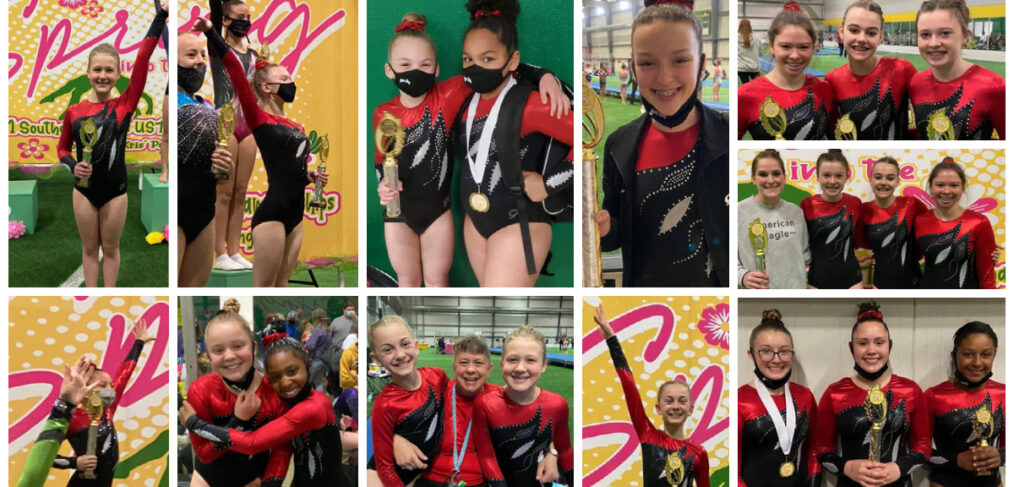 Tumblers Clean Up at State!
Gem City Tumbling Team had 29 of their 31 competitors at the Southern Illinois State Championships in Glen Carbon, IL qualify for USTA National Championships!
We are so proud of all our athletes and their hard work and dedication. Athletes on the tumbling team compete in up to five invitational meets this season. They practice 1-3 times per week for two hours each practice. They are coached by Zeke Cernea, Laci Heller, Anne Nash, and Lydia Schrand. Read more about the Gem City's tumbling team here.
Athletes will compete at the USTA National Championships on June 15-19 in Rochester, Minnesota.
Meet Results
🇺🇸 = qualified for nationals
🇺🇸Josalyn Miller NOV 1st 🥇- State Champion
🇺🇸Ashley Leonard ADV 2nd 🥈
🇺🇸Ellie Lithila NOV 2nd 🥈
🇺🇸Laken Hudnut INT 2nd 🥈
🇺🇸Dorothy Boehmer SUBNOV
2nd 🥈
🇺🇸Sierra Bergman NOV 2nd 🥈
🇺🇸Ashlyn Akerson ADV 3rd 🥉
🇺🇸Morgan Mueller INT 3rd 🥉
🇺🇸Sophia Slater ADV 3rd 🥉
🇺🇸Ellisyn Stratman NOV 4th
🇺🇸Isla Ufkes SUBNOV 4th
🇺🇸Lily Venvertloh SUBNOV 4th
🇺🇸Aubrey Cress-Grote NOV 4th
🇺🇸Millie Stewart NOV 5th
🇺🇸Kaylin Vazquez-Epperson NOV 5th
🇺🇸Mae Pittman NOV 6th
🇺🇸Lydia George NOV 6th
🇺🇸Madalyn Gibbs ADV 6th
🇺🇸Marlea Hamby NOV 6th
🇺🇸Alexa Johnson SUBNOV 6th
🇺🇸MaryKate McReynolds ADV 7th
🇺🇸Lauryn George NOV 7th
🇺🇸Nyla Joiner INT 7th
🇺🇸Wren Knuffman SUBNOV 7th
🇺🇸Rylee Mellon ADV 8th
🇺🇸Ruby Akerson SUBADV 9th
🇺🇸Madilynn Wiseman NOV 11th
🇺🇸Chayse Uhlmeyer INT 14th
🇺🇸Rebecca Motley INT 15th
Haileigh Carlstrom INT 16th
Carter Arnold INT 17th