Help Us Celebrate 15 Years of Cartwheels and Handstands!
We are SO excited to be nearing our 15 Year Anniversary! This August marks a full 15 years in business! We cannot believe how quickly it seems time has passed, but we are so thankful for the time!
Fifteen years ago we embarked on something new to us but also very familiar. We were all employees and coaches for Quincy Gymnastics Center, so we already knew the gym environment and already had our roles to help make the gym work smoothly. Jumping into gym ownership was easy and hard at the same time! We are so thankful we took a leap of faith in 2006. The three of us have been able to grow a small gym into the gym we have today! As much as we say we're a "small business", we don't feel that the gym is small any longer. We are thankful to be reopen after last year and will hopefully keep growing in the coming years to make a full comeback. Thank you for 15 years!
We want to celebrate over the next six months to fully embrace such an accomplishment. We have a few fun things planned, a few new things planned, and some little tid-bits of fun thrown in there for fun!
Our first month of celebrating, we'd like to introduce our 15 Year Anniversary Logo! It's FLIPPING FANTASTIC! We see kids flipping all over town and we can't help but think, were they a Gem City athlete?! We have this great "Flipping Factory" right here in Quincy. We do so much more than just teach "flips" but this is our lasting impression on the community. We hope you enjoy the logo.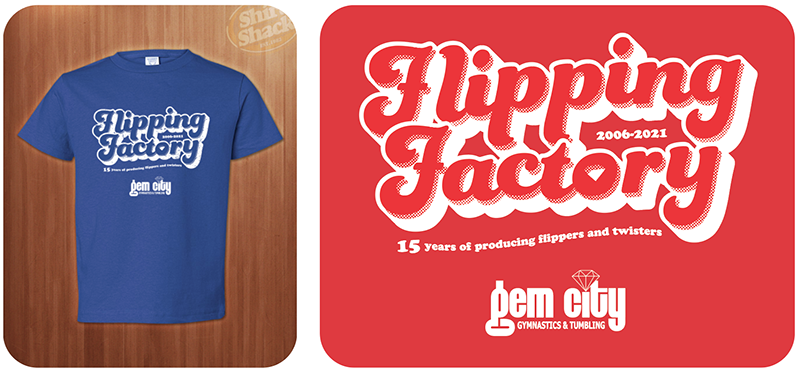 ---
With that being said, we have designed a commemorative t-shirt just for the occasion! You can order a t-shirt May – October! The order form is available here. Feel free to place your order in person, by mail, or over the phone. We will send our orders in to production every few weeks, so feel free to order whenever is good for you! We'll call you when your order is ready to be picked up from the gym. We plan to sport these shirts for years to come. We still find coaches and athletes wearing our 10 Year Anniversary t-shirts!
Keep up-to-date with all of our anniversary fun by reading our blog posts, monthly newsletters, and checking our Facebook and Instagram. We hope you have fond memories of our gym and we hope to make 15 more years of memories with you. THANK YOU!
Thanks for all the support!
Katie, Zeke, & Jacob