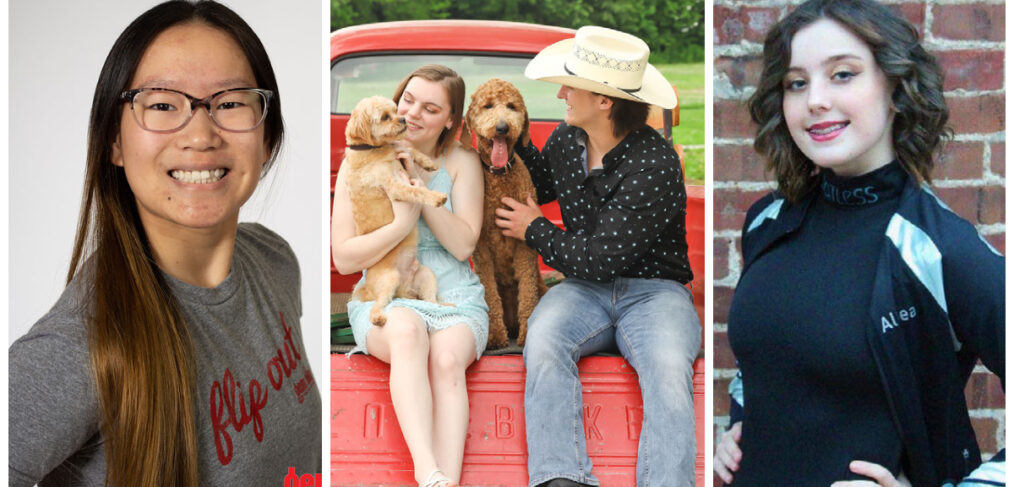 Senior Spotlight 2020-2021
We have three graduating seniors this year from our team program or staff! We wish all three of you the best of luck.
Alysea Sperber has been on our Senior All-Star Cheer Squad for four years. She graduates this year as a home-school student. Her future plans are to sell art and to continue her career in dance by becoming a full-time instructor and choreographer at Velocity Dance and Tumbling in Madison, Iowa . Alysea says the thing she loved most about all her time on the cheer squad was learning the new routines every season. She also enjoys painting, drawing, and reading.
Sarah Shumake has been on our Senior All-Star Cheer Squad for five years and she's been coaching at GCGT for two years. She is graduating from Quincy Senior High School. Sarah plans on attending college and becoming a teacher. She will also continue coaching gymnastics and will tryout for the All-Star Squad again next season! Sarah says that she loves the extra free time that her senior year has allowed her since she goes to school in-person every other day. She has used this time to spend more time with family and at the gymnastics center! Sarah has been attending classes at Gem City since she was been seven years old!
Katelyn Dixon will be graduating from Quincy University this year with her Bachelor of Science Degree in Biological Sciences with a minor in Chemistry. Katelyn has been a coach at Gem City since 2016, after being a GCGT athlete for almost a decade before that! Katelyn was once on our Gymnastics Team, Tumbling Team, and our All-Star Squad! This summer she plans to submit her medical school application to begin her journey to become a doctor beginning the 2022-2023 school year! In the meantime, she will continue working in the Emergency Room at Blessing Hospital and at the gym. Also, this June she will be getting married! And even though her last name will be changing, she will always be known as "Dixon" in the gym!
We will miss seeing Alysea in the gym each week, but we are happy to say we will be seeing a lot more of Sarah and "Dixon" over the next school year!