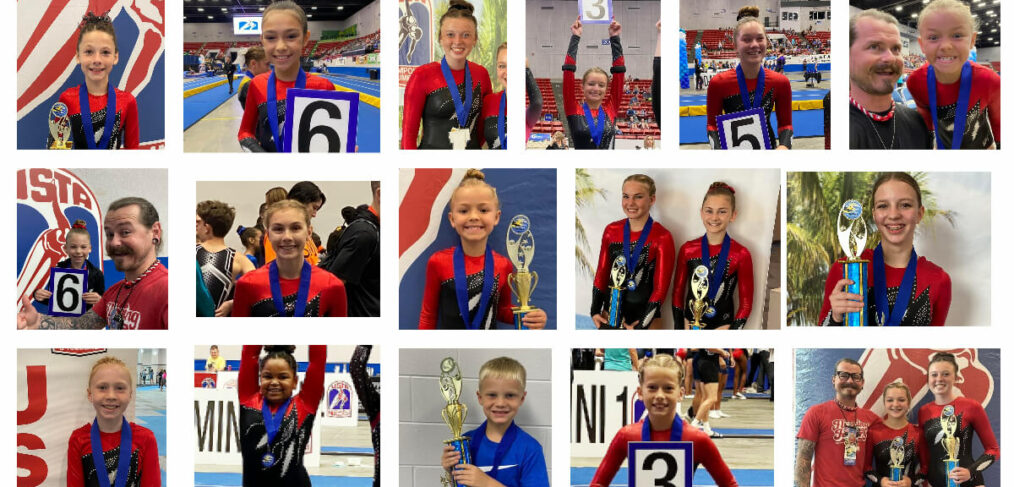 10 Gem City Tumblers Place in Top Ten at Nationals
Sixteen of Gem City's tumblers competed at the United States Trampoline & Tumbling Association's (USTA) National Championships in Lakeland, Florida, on June 13-18. Athletes from 138 gyms from across the country attended — we're so proud that 10 of our 16 athletes placed in the top 10.
Fun Fact: Next year, Nationals will be held in Springfield, IL.
The scoring system at Nationals is pretty easy to understand. All levels compete one day except advanced and elite levels that must have a preliminary day and then those that qualify at prelims advance to finals the following day. Advanced level athletes had to qualify for finals on the first day of Nationals by placing in the top ten. Every athlete also gets a flight award (them holding their number) but are then awarded their final place (podium for places 1-10), so their flight placement is not their overall placement. A flight is no more than 10 athletes, so each group can have multiple fights.
A total of 28 Gem City tumblers qualified at the Southern Illinois State Championships in April. To qualify, athletes needed to place top 15.
Athletes on the tumbling team competed in up to six invitational meets this season. They practice 1-3 times per week for two hours each practice. They are coached by Zeke Cernea, Laci Heller, Anne Nash, and Lydia Schrand. Read more about the Gem City's tumbling team here.
Results from Nationals
⭐️ Ella Weitholder – Sub Novice – 4th of 25
⭐️ Henry Keppner – Sub Novice – 4th of 12
⭐️ Dorothy Boehmer – Novice – 5th of 20
⭐️ Khloee Hinton – Intermediate – 6th of 28
⭐️ Ashlyn Akerson – Advanced – 7th of 19 at Finals
⭐️ Mia Fojtik- Novice – 8th of 20
⭐️ Ryli Zahringer – Sub Novice – 9th of 52
⭐️ Ruby Akerson – Sub Advanced – 10th of 39
⭐️ Ellisyn Stratman – Intermediate – 10th of 17
⭐️ Sophia Slater – Advanced – 12th of 18 at Prelims
⭐️ Bella Slater- Sub Novice – 14th of 41
⭐️ Maddi Wiseman – Novice – 14th of 27
⭐️ Sierra Bergman – Intermediate -16th of 54
⭐️ Hannah Russel – Sub Novice – 18th of 52
⭐️ Naomi Bliven – Sub Novice – 18th of 52