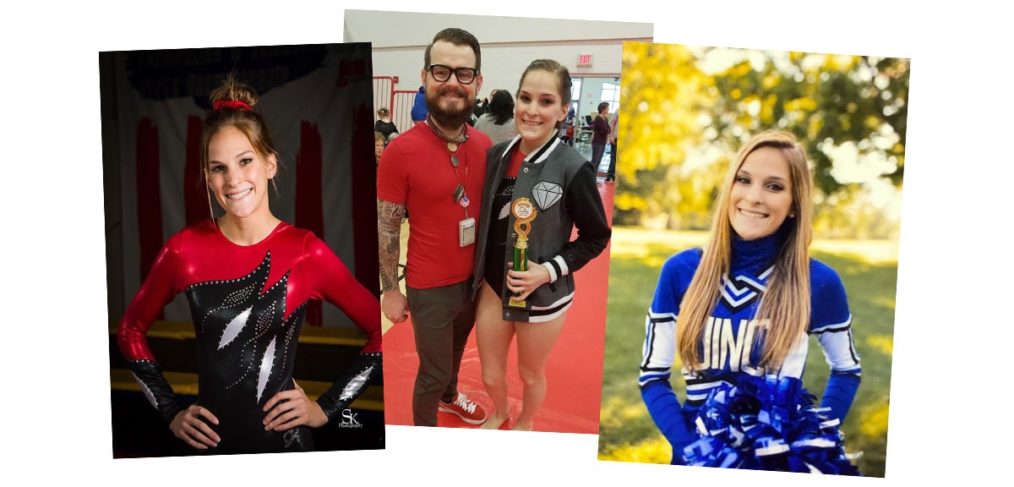 Ashley Leonard Named USTA Southern Illinois State Athlete of the Year
Ashley Leonard, 18 from Quincy, has been a Gem City athlete for over 12 years and was recently honored as the Southern Illinois State Athlete of the Year by the United States Trampoline & Tumbling Association (USTA)!
She started taking classes when she was six years old. Ashley has worked her way through almost all of the programs we have to offer at the gym – recreational classes, competitive gymnastics for five years, nine years as a competitive All-Star Cheerleader, and she's been on the Tumbling Team for the last 10 years. Ashley is currently coached by Zeke Cernea, Laci Heller, and Anne Nash on Tumbling Team, and coached by Hope Huff, Ashley Schralla, and Katelyn Dixon on the All Star Cheer Squad.
Ashley has also been a Blue Devil cheerleader at Quincy Senior High School for the last four years where her competitive cheering and tumbling skills have had a chance to shine on yet another platform!
Ashley was nominated for this award for her good standing with USTA, her Advanced athlete status for the past five years, her good grades, and for her determination to work hard through her whole high school career. It takes a lot of work for an Advanced tumbler to train through their teen years, and Ashley has been steadfast in keeping up with her training.
We are so happy to have such a hard worker at Gem City. Ashley is a graduating senior, so we do feel sorry that her senior year competitions have been disrupted, but we're still hoping she can attend the last competition of the season this July. Ashley plans on attending classes at John Wood Community College this fall, and she still plans on tumbling even after graduation!