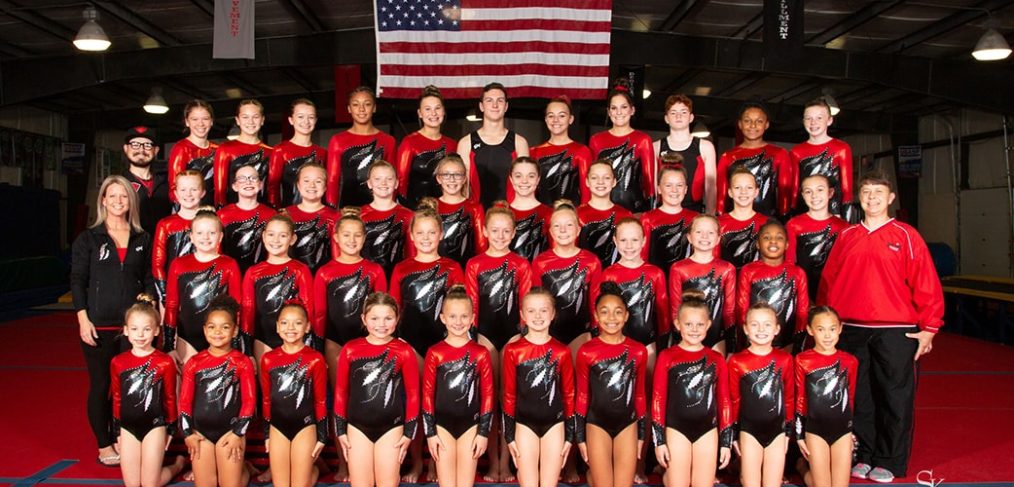 Celebrate Tumbling Team Qualifying for State
Gem City's Tumbling Team qualified and were ready for the United States Trampoline & Tumbling (USTA) Illinois State Championships on April 19 in Pana, Illinois, but unfortunately the season was cut short. We still want to give credit to our amazing athletes while they are home now instead of in the gym.
Gem City had 42 athletes competing at State this year! Athletes attend 1-3 practices a week for six hours a week. Each athlete competed in a minimum of two invitational competitions and some up to eight competitions. They've been all over this year with six competitions in Illinois, one competition in Iowa, and another competition in Florida.
Tumblers were set to compete at State to qualify for USTA Nationals which were scheduled for June 13-20 in Springfield, Illinois. Nationals has now been rescheduled to July 27-31 in Springfield, Illinois. Nationals will now be considered an Open Nationals with athletes from all over the United States registering to compete. With all of the USTA State competitions cancelled this season, the USTA Executive Board want to move forward and encourage athletes by still having the competition on the event calendar. We're all hoping we're able to compete come July!
The tumbling team is coached by Zeke Cernea, Anne Nash, and Laci Heller. Read more about the Gem City's tumbling team here.

Those athletes that qualified and were advancing to State:
Rylee Mellon – 14, Quincy
Ashley Leonard – 18, Quincy
Madalyn Gibbs – 13, Plainville
Sophia Slater – 11, Canton, MO
Ayanna Douglas – 12, Quincy
Ashlyn Akerson – 14, Palmyra, MO
Randle Guymon – 18, Keokuk, IA
Ruby Akerson – 12, Palymra, MO
MaryKate McReynolds – 12, Canton, MO
Claire Westerman – 14, Quincy
Olivia Slater – 9, Canton, MO
Ava Gammons – 9, Quincy
Khloee Hinton – 16, Hannibal, MO
Chayse Uhlmeyer – 11, Canton, MO
Sydney Sherman – 14, Quincy
Carter Arnold – 10, Canton, MO
Kenidee Oshner – 10, Quincy
Haileigh Carlstrom – 10, Quincy
Abby Fenton – 12, Quincy
Cassidy Lane – 9, Hannibal, MO
Daylen Stevens – 13, Palmyra, MO
Millie Stewart – 10, Palmyra
Mechaela Voth – 10, Ursa
Rebecca Motley – 12, Vandalia, MO
Sierra Bergman – 12, Quincy
Eden Mayes – 7, Bethel, MO
Layla Martin – 11, Hannibal, MO
Madilynn Wiseman – 7, Shelbyville, MO
Ellisyn Stratman – 8, Quincy
Aubrey Cress-Grote – 11, Quincy
Serah Mixer – 8, Quincy
Shemaya Mixer – 11, Quincy
Mae Pittman – 9, Quincy
Charli Wiegmann – 8, Quincy
Morgan Mueller – 8, Quincy
Nyla Joiner – 14, Monroe City, MO
Alexa Johnson – 11, Keokuk, IA
Gage Woolen – 13, Monroe City, MO
Ellie Lithila – 9, Quincy
Marlea Hamby – 9, Quincy
Corinne Brinkley – 9, LaGrange, MO
Tatum McLey – 9, Ft. Madison, IA