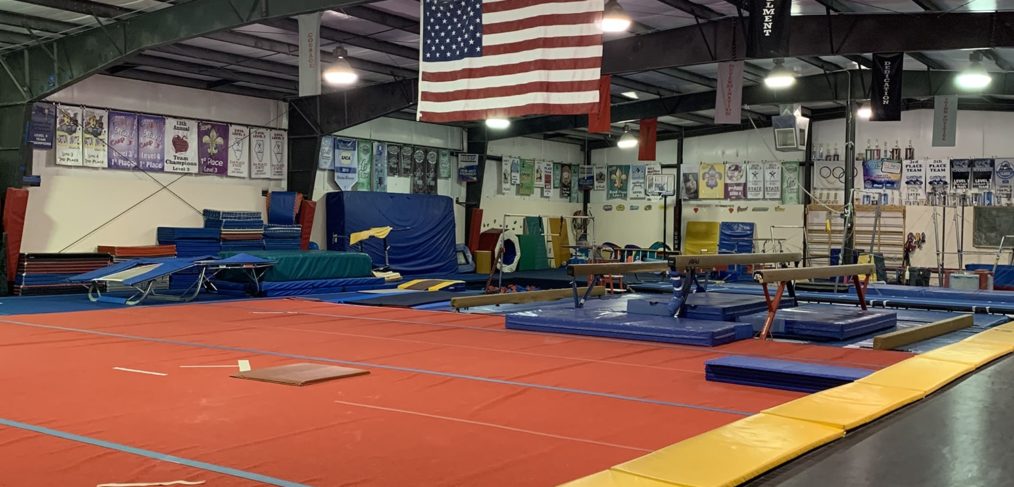 5/28/20 Update: Gem City & COVID-19
To all of our athletes and their families,
We are canceling our recreational summer session. We will be closed for ALL classes beginning May 29 until further notice due to the Illinois Governor's recent Executive Order for all non-essential businesses and a phased reopening.
Please scroll down to read our complete list of updates.
We extend a big thank you to you for all your patience during this time. We are saddened and miss our gymnastics community. We look forward to and will return to normal business as soon as we can.
Please keep checking our Facebook account and back here at our blog. Below you will find updates related to Gem City being closed.
Stay safe and well,
Katie Cernea
---
Gem City Updates
Newest Updates as of 5/28/20
○ You can book private lessons ALL summer long – through August 20. Simply call 217.224.8491 or message us to book your weekly lesson.
○ You can host a birthday party! Parties can start on June 1. Gem City's standard party capacity limits align with new standards.
○ Gem City is hosting weekly Preschool Playtime beginning June 17! It will be limited to the first 40 kids to keep our capacity under the limit. Preschool Playtime is now $7 from 9:30-11:30 am every Wednesday for ages six and under only. Each child must be supervised by a guardian.
○ Tryouts for Gem City's All-Star Cheer Squad are happening on June 16! Summer practices for the new squad will begin on June 23.
○ Gymnastics and tumbling team practices start up on June 15.
○ Office hours for summer will be irregular, so please call 217.224.8491 if you have a question, would like to book a lesson or a party, or would like to purchase an item from our Pro Shop. We check messages each day, so just tell us how we can help!
○ Our hope is to have our fall schedule available by July 13 with class registration beginning July 20. Fall session will start on August 22 like originally planned with Gem City's regular capacity limits (assuming no limitations are in place 🤞).
---
As of 5/21/20
Summer session recreational classes are ALL canceled for summer 2020.

Our facility will be allowed to do private lessons beginning May 29, so please feel free to contact our office if you'd like to schedule a summer private lesson. If you already have a private lesson scheduled for the summer, please reach out to the coach you booked through or the front office to confirm your day/time as most of our coaches now will not be coaching this summer. If you need to switch coaches you will need to rebook by calling us. There will be less than 10 coaches total doing one-on-one lessons this summer.

Preschool Playtime, Adaptive Gymnastics, and Adult Gymnastics will be canceled until further notice. We are hoping that as regulations are lifted, we can get these weekly groups back on the calendar before the end of the summer.

Summer registration started Monday, April 20, and was to begin Monday, June 1. Anyone who called and signed-up for summer session in a recreational class or an invitation-only class will be automatically removed from the roster – there is NO need to call us. No one paid any tuition for summer, so no refunds or credits need to be issued.

All spring session classes, the tentative plan for getting the kids in the gym during our summer session to make-up for the weeks that we were closed has also been canceled. This plan was dated 5/1/20; a new and updated plan will be made in regards to this new closure extension when a final date is given to us on a full reopen. ANY credits that were to be given towards summer classes will be forwarded automatically. We will post this new plan later this summer (hopefully) on social media, on our blog, and a gym-wide email will be sent to those accounts with an email address listed.

The Pizza Fun Night scheduled for July 24 that was part of the make-up plan has also been canceled; anyone signed-up will automatically be removed from the roster.

If you have a birthday party scheduled in June, you will be getting a phone call from our secretary to reschedule your party. We will be taking it two weeks at a time at this point just in case the number of people allowed in the building is changed.

Monthly tuition athletes (gymnastics team, tumbling team, and gymnastics pre team), we will continue to pro-rate your tuition for the weeks we are closed. There will be no tuition due for June. WE HAVE CHANGED OUR PLAN FOR AUGUST (and we hope to be able to still do this in August, so we will keep this in place); we are not allowed to have team practices until further notice, but we are allowed to do private lessons beginning May 29. Summer session will now end for these three groups on Thursday, August 20 (regardless of the start date), and fall session will begin on Saturday, August 22. We HIGHLY encourage all team athletes to check the gym's social media accounts daily for home workouts while away from gym.

For all athletes that could be potentially moving into our team program from fast tracks, tumbling pre-team, or gymnastics pre-team, we will be postponing your evaluation for summer. We will have a more in-depth look at those invitation only classes when we resume classes for the fall session or maybe even later this summer as regulations are lightened. We will contact you individually if we feel we can squeeze these evals in sooner rather than later.

We will continue to upload a weekly coloring sheet and Kinder Gem workout for all of our preschool athletes through the regular summer session dates. You can find these on our social media accounts and a printable version is available on our blog.

We have postponed the All-Star Squad Tryouts that were scheduled for Tuesday, June 2, 6:30-8:30pm. We will announce our new tryout date as soon as we know when that will be. We do still have both choreography weekends on the books for the original dates. If tryouts cannot happen before these dates then we will change the choreography dates and inform everyone via social media and email of the changes as choreography weekend is a mandatory attendance weekend for all squad members. If you'd like to book private lessons for the summer to brush-up on skills before tryouts, we highly recommend it!
---
Be the first to know when Gem City re-opens!