March 2022 Newletter
Happy St. Patrick's Day!
We're wishing good luck to a bunch of athletes over the next month as they advance to State and Nationals for gymnastics, tumbling, and cheer. Follow along on our Instagram and Facebook for up to date info on each team! Check out a few of our blogs posts below on teams headed to state and recent competitions!
---
Next Event – Friday, March 18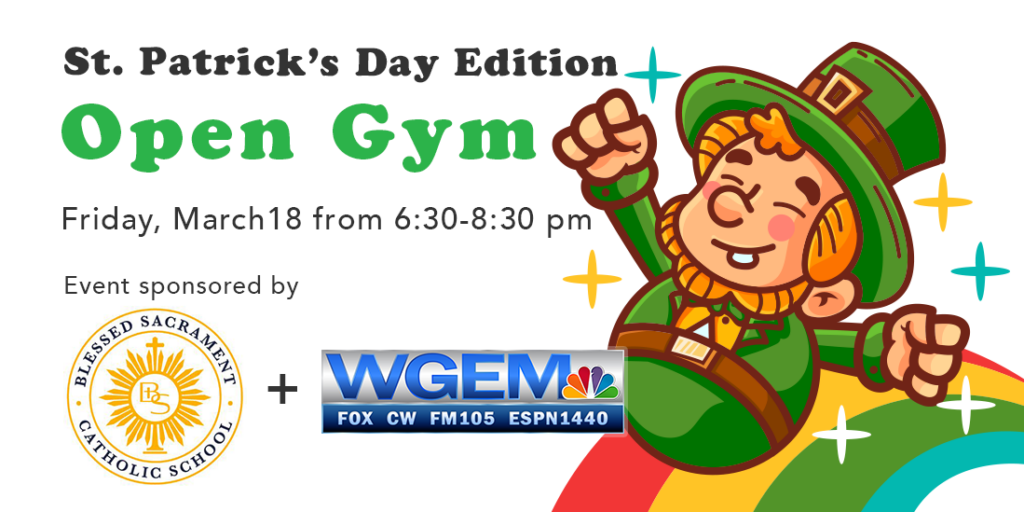 Check out the Facebook event for more details.
We are excited to have Blessed Sacrament School at this Open Gym! They will be providing drinks and snacks to all attendees free of charge, and they will also have information available about their next enrollment period!
Last Event of School Year
The next and last open gym of the school year will be on Friday, April 29. Pre registration due by April 28. Limited capacity.
---
March Reminders
🗓 Scheduled Break
We are closed Friday, April 15 – Sunday, April 17, for Easter break. Classes resume on Monday, April 18.
We WILL be hosting preschool playtime during our May break – Wednesday, May 18, and Wednesday, May 25.
👋 Tuition Now Past Due
Spring session tuition was due in full by March 1. Please stop in the office if you have an outstanding balance or any questions.
☀️ Start Thinking About Summer
Our summer schedule will be available online April 1. Summer registration begins Monday, April 18. Registrations can be made over the phone or in person.

In-class evaluations will begin April 8 for one week. These will help match kids with the right class.
❄️ All Snow Days Can Be Made Up
If you missed class due to the gym closing because of weather, please contact the office before the end of the spring session to schedule your make-up class.
🚨 Get Excited!
We are proud to partner with Quincy Children's Museum once again this session. Keep a look out for the events that they are hosting here at the gym. To be better informed, add yourself to their mailing list.
---
All Star Cheer News
---
Next Drawing on April 20
The third quarter good grades drawing will take place Wednesday, April 20, so make sure to pop in when you get your third quarter report cards!