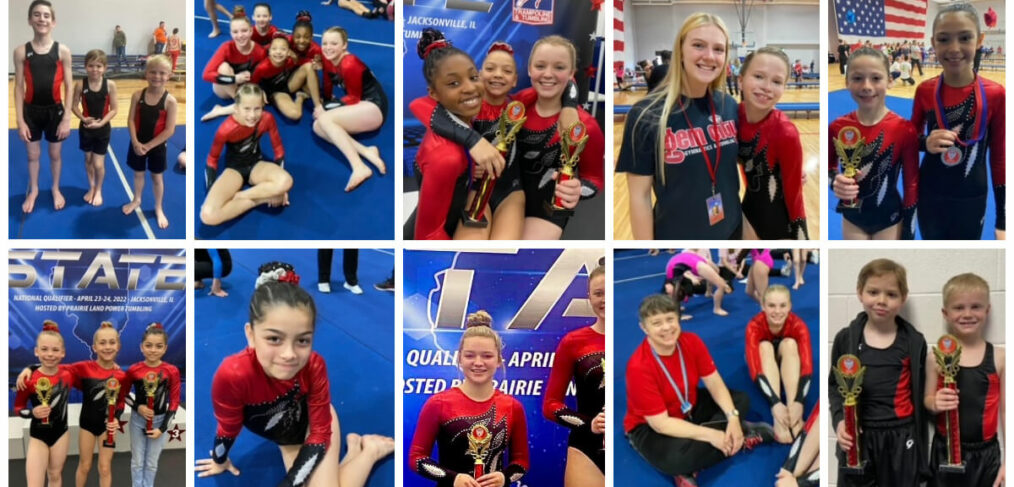 All Gem City Tumblers at State to Advance to Nationals
All of Gem City's twenty-eight tumblers, who competed at the 2022 Southern Illinois State Championships in Jacksonville, earned a spot at Nationals in Lakeland, Florida.
🎉 Great job athletes! 🎉
This is a first in the history of Gem City's tumbling program. To qualify athletes had to earn a top 15 placing at State. USTA Nationals will June 15-19.
This included a 1st and 2nd place Gem City finish for our advanced girls in the age 15-16 division. At the end of the day, our GCGT Tumblers are coming home with five State Champions and twenty eight national qualifiers.
Athletes on the tumbling team compete in up to six invitational meets this season. They practice 1-3 times per week for two hours each practice. They are coached by Zeke Cernea, Laci Heller, Anne Nash, and Lydia Schrand. Read more about the Gem City's tumbling team here.
Check out our class schedule to start your child's Gem City journey.
Meet Results
Maddy Gibbs – Advanced – 1st 🥇 STATE CHAMPION
Henry Keppner – Sub Novice – 1st 🥇 STATE CHAMPION
Alaina Nichols – Sub Novice – 1st 🥇 STATE CHAMPION
Taylan Plenge – Sub Novice – 1st 🥇 STATE CHAMPION
KK Vazquez-Epperson – Intermediate – 1st 🥇 STATE CHAMPION
Ashlyn Akerson – Advanced – 2nd 🥈
Dorothy Boehmer – Novice – 2nd 🥈
Ellie Lithila – Intermediate – 2nd 🥈
Ethan Lithila – Sub Novice – 3rd 🥉
Ella Wietholder – Sub Novice – 3rd 🥉
Hannah Russell – Sub Novice – 4th
Isla Ufkes – Novice – 4th
Sophia Slater – Advanced – 5th
Millie Stewart – Intermediate – 5th
Marlea Hamby – Intermediate – 6th
Ellisyn Stratman – Intermediate – 8th
Ruby Akerson – Sub Advanced – 8th
Madilynn Wiseman – Novice – 9th
Ryli Zahringer – Sub Novice – 9th
Wren Knuffman – Novice – 9th
Josalyn Miller – Intermediate – 9th
Bella Slater – Sub Novice – 10th
Sierra Bergman – Intermediate – 11th
Naomi Bliven – Sub Novice – 11th
Mia Fojtik – Novice – 11th
Alexa Johnson – Sub Novice – 11th
Khloee Hinton – Intermediate – 13th
Mae Pittman – Intermediate – 15th