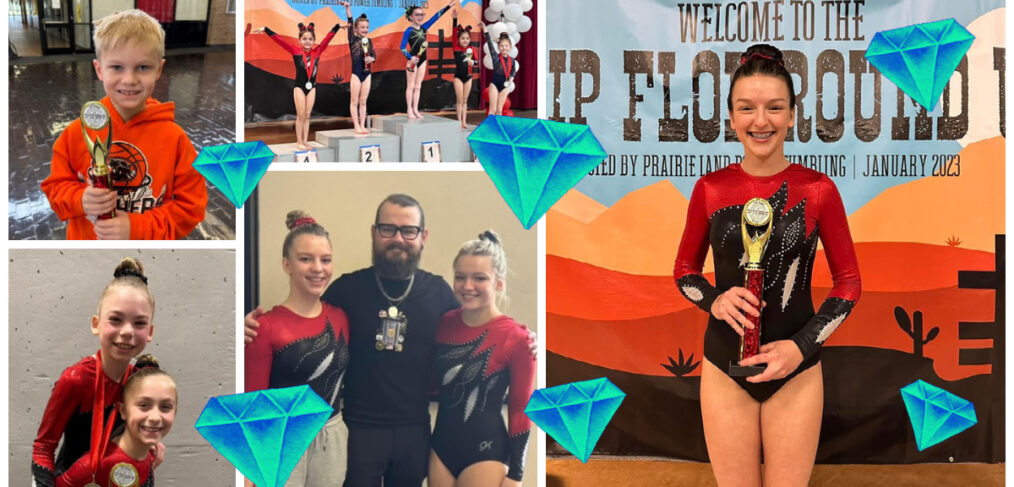 Tumbling Team Competes at Flip Flop Round Up
Fourteen Gem City Tumblers earned top 3 or better placements at the Flip Flop Round Up Invitational this weekend in Decatur, IL. We are so proud of all their hard work and dedication.
Tumbling team athletes are coached by Zeke Cernea, Anne Nash, Sydney Sherman, and Lydia Schrand. Read more about the Gem City's tumbling team here.
Meet Results
Ashlyn Akerson Advanced – 1st 🥇
Henry Keppner – Intermediate – 1st 🥇
Ethan Lithila – Novice – 1st 🥇
Josie Miller – Sub Advanced – 1st 🥇
Mayvee Miller – Sub Novice – 1st 🥇
Alaina Nichols – Intermediate – 1st 🥇
Morgan Venvertloh – Sub Novice – 1st🥇
Ruby Akerson – Advanced – 2nd 🥈
KK Vazquez-Epperson – Sub Advanced – 2nd 🥈
Isabella Slater – Novice – 3rd 🥉
Hadley Trowbridge – Sub Novice – 3rd🥉
Isla Ufkes – Intermediate – 3rd 🥉
Niah Vazquez-Epperson – Sub Novice – 3rd 🥉
Madilynn Wiseman – Novice – 3rd 🥉
Sierra Bergman – Sub Advanced 4th
Ellisyn Stratman – Intermediate – 4th
Esther Vazquez-Epperson – Sub Novice – 4th
Hadley Fry – Sub Novice – 5th
Millie Stewart – Intermediate – 6th
Ryli Zahringer – Intermediate – 7th