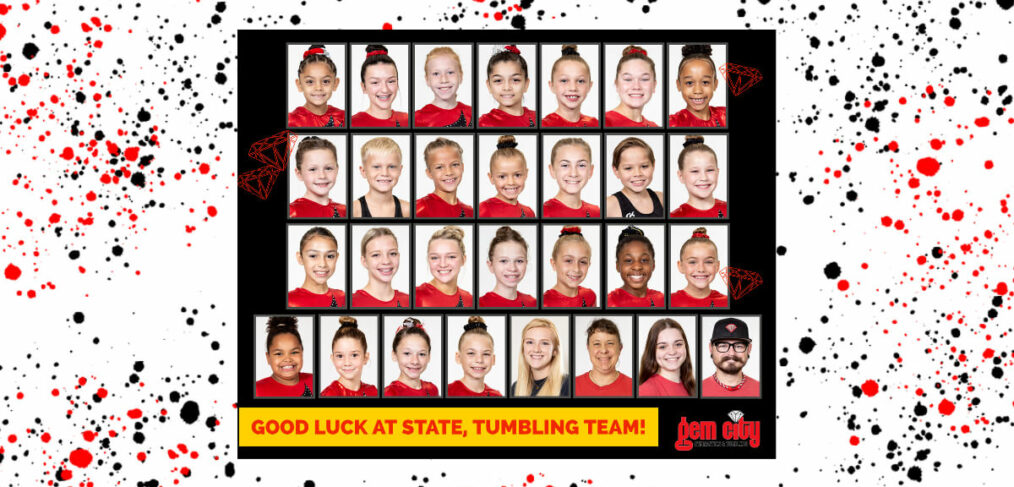 26 Tumblers Headed to State
Gem City has 26 athletes advancing to the United States Trampoline & Tumbling Association's (USTA) Illinois State Championships in Pana, Illinois on April 23.
We're proud of all the hard work Gem City's athletes put into training and competition!
Athletes on the tumbling team compete in up to six invitational meets this season. They practice 1-3 times per week for two hours each practice. They are coached by Zeke Cernea, Anne Nash, Lydia Roth, and Sydney Sherman. Read more about the Gem City's tumbling team here.
Those athletes who earn a top 15 placing at State will qualifying for USTA Nationals, which is June 19-24 in Springfield, Illinois.
Tumblers Competing at State:
Ashlyn Akerson, 17, Palmyra, MO
Ruby Akerson, 15, Palmyra, MO
Sierra Bergman, 15, Quincy, IL
Naomi Bliven, 11, Quincy, IL
Dorothy Boehmer, 13, Pittsfield, IL
Jamie Burton, 9, Quincy
Layla Dula, 8, Quincy
Hadley Fry, 8, Kahoka
Henry Keppner, 8, Hannibal, MO
Ethan Lithila, 9, Quincy, IL
Josey Miller, 18, Winchester, IL
Mayvee Miller, 9, Palmyra
Alaina Nichols, 10, Quincy, IL
Mae Pittman, 12, Quincy, IL
Isabella Slater, 9, Canton, MO
Millie Stewart, 13, Palmyra, MO
Ellisyn Stratman, 11, Quincy, IL
Hadley Trowbridge, 10, Quincy
Isla Ufkes, 9, Quincy, IL
Esther Vazquez-Epperson, 7, Payson
Niah Vazquez-Epperson, 7, Payson
Kaylin Vazquez-Epperson, 10, Payson, IL
Morgan Venvertloh, 8, Mendon
Ella Wietholder, 8, Liberty, IL
Madilynn Wiseman, 10, Shelbyville, MO
Ryli Zahringer, 11, Bethel, MO