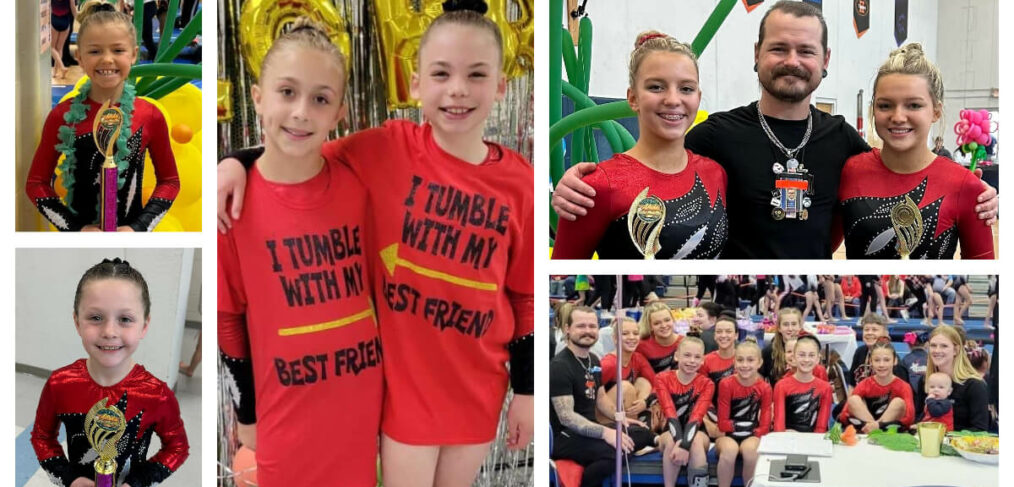 Tumblers Qualify at State for Nationals
The 2023 USTA Southern Illinois State Championships are in the books! The Gem City Tumbling Team had 26 tumblers complete and we now have 24 National Qualifiers and 7 State Champions.
Special shout-out to our graduating senior, Josalyn Miller, who received a $250 scholarship from USTA. Also, congrats to our two highest level advanced athletes, Ashlyn and Ruby Akerson on being nominated for Athlete of the Year Award. Both went on to win 2023 State Championships in their respective divisions.
Athletes on the tumbling team compete in up to six invitational meets this season. They practice 1-3 times per week for two hours each practice. They are coached by Zeke Cernea, Anne Nash, Lydia Roth, and Sydney Sherman. Read more about the Gem City's tumbling team here.
Meet Results
*🇺🇸 indicates national qualifier
*🥇indicates state champion
Ashlyn Akerson – Advanced – 1st 🥇🇺🇸
Ruby Akerson – Advanced – 1st 🥇 🇺🇸
Henry Keppner – Intermediate – 1st 🥇 🇺🇸
Ethan Lithila- Novice – 1st 🥇🇺🇸
Ellisyn Stratman – Intermediate – 1st 🥇 🇺🇸
KK Vazquez-Epperson – Sub Advanced – 1st 🥇 🇺🇸
Ella Wietholder – Intermediate – 1st 🥇 🇺🇸
Josalyn Miller – Sub Advanced – 2nd 🥈 🇺🇸
Esther Vazquez-Epperson – Sub Novice – 2nd 🥈🇺🇸
Niah Vazquez-Epperson – Sub Novice – 3rd 🥉 🇺🇸
Sierra Bergman – Sub Advanced – 4th 🇺🇸
Naomi Bliven- Novice – 4th 🇺🇸
Isla Ufkes – Intermediate – 4th 🇺🇸
Morgan Venvertloh – Sub Novice – 4th 🇺🇸
Alaina Nichols – Intermediate – 5th 🇺🇸
Bella Slater- Novice – 7th 🇺🇸
Madilynn Wiseman- Novice – 8th 🇺🇸
Ryli Zahringer – Intermediate – 8th 🇺🇸
Jamie Burton – Sub Novice – 9th 🇺🇸
Hadley Fry – Sub Novice – 10th 🇺🇸
Mayvee Miller – Sub Novice – 10th 🇺🇸
Mae Pittman – Intermediate – 10th 🇺🇸
Layla Dula – Sub Novice – 14th 🇺🇸
Hadley Trowbridge – Sub Novice – 15th 🇺🇸
Millie Stewart – Intermediate – 16th
Dorothy Boehmer – Intermediate – 17th