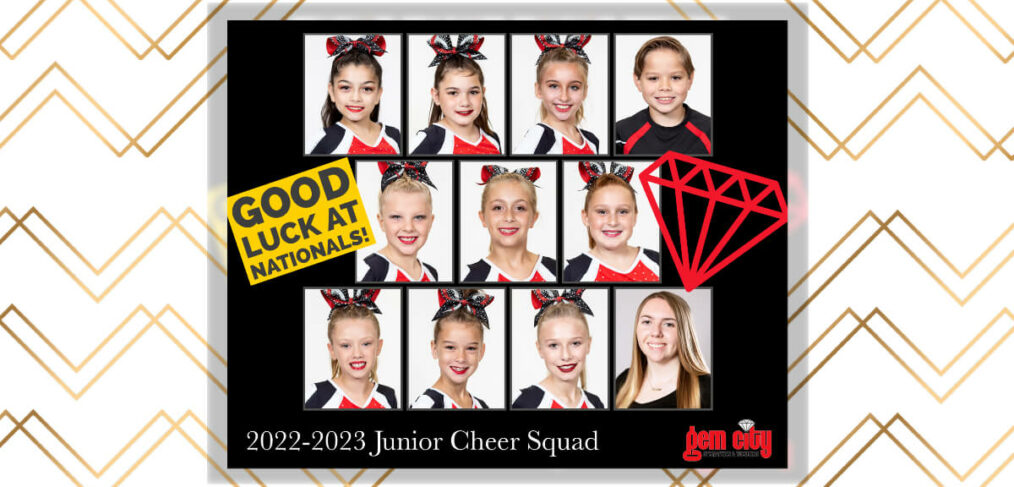 Junior All Star Squad Head to Virginia Beach for Nationals
Gem City's younger all-star cheer squad, Gem City Diamonds, is headed to Nationals May 5-7 in Virginia Beach, Virginia! The squad qualified for Nationals after attending their first invitational of the season in Indianapolis!
The Gem City Diamonds is coached by Hayley LaGarce. You can read more about our all-star cheer program here. See a full list of members of the squad below.
2022-2023 Gem City Level 1 Elite All Star Squad:
Avery Board, 12, Quincy
Charley Denton, 8, Liberty
Kate Fuller, 10, Quincy
Ethan Lithila, 9, Quincy
Alaina Nichols, 10, Quincy
Payton Palmer, 9, Bowling Green
Lindyn Schneider, 11, Quincy
Brynlee Sohn, 10, Quincy
Kaylin Vazquez-Epperson, 10, Payson
Raelynn Weatherford, 9, Quincy